The government is said to be tightening oversight over the rapidly expanding sector, Jiang Xueqing reports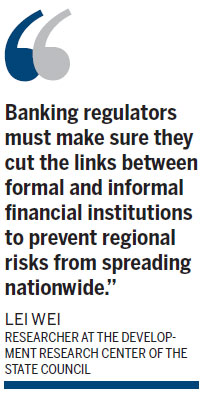 China is tightening its grip on the rapidly expanding shadow banking business. Financial experts applauded the latest regulations and advised the government to take moderate measures in order not to put banks and the real economy under too much pressure while the Chinese economy slows down.
"Banking regulators must make sure they cut the links between formal and informal financial institutions to prevent regional risks from spreading nationwide. During the process, they should be careful not to go too far. Otherwise, the capital chain is likely to break once they over-tighten liquidity," said Lei Wei, a financial researcher with the Development Research Center of the State Council, a top government think tank.
She said the People's Bank of China, the country's central bank, should open up liquidity slightly and lower the yuan deposit reserve ratio while it tightens up on shadow banking.
The China Banking Regulatory Commission has set up a leadership group on banking industry reform headed by its chairman, Shang Fulin.
There were rumors the State Council, China's cabinet, issued a set of guidelines known as Document No 107 to address shadow banking issues in December. If true, this implies that it is a priority for Beijing to keep shadow lending under control and to mitigate the associated risks, according to a research report by HSBC Holdings Plc.
Although the government has not yet confirmed the guidelines were issued, it was widely reported the State Council document cast shadow banking into three major categories. They are: completely unregulated credit intermediaries without a license, including Internet finance companies and third-party wealth management institutions; unlicensed credit intermediaries that lack sufficient regulation, including financing guarantee corporations and micro-loan companies; finally, services provided by licensed financial institutions that lack sufficient regulation or avoid regulation, including money market funds, asset-backed securitization and certain wealth management services.
China's shadow banking sector has grown by leaps and bounds in recent years partly because formal financing channels such as bank loans, bonds and public offerings set the bar too high for fundraising appeals and therefore could not meet the demands of social capital, said Lu Zhengwei, chief economist at Industrial Bank Co Ltd.
The risks of shadow banking have expanded rapidly since 2012 and aroused the intense attention of the State Council.
Statistics released by the PBOC on Jan 15 showed off-balance-sheet financing, including entrusted loans, trust loans and non-discounted bills of exchange, increased by 1.55 trillion yuan ($256 billion) year-on-year to 5.17 trillion yuan in 2013, accounting for nearly 30 percent of total social financing.
At a conservative estimate, China's shadow banking market has reached about 30 trillion yuan, including more than 10 trillion yuan of trust products, 9 trillion yuan of wealth management products and 5 trillion yuan of money market transactions, said Li Jianjun, assistant dean at the School of Finance under the Central University of Finance and Economics.
The government is tightening oversight of shadow banking services as the risks grow. The central bank has strengthened efforts to monitor and assess the risks involved in shadow banking, said Sheng Songcheng, head of the statistics and analysis department of the PBOC, at a recent news briefing.
He said regulatory authorities should guide the shadow banking system toward positive development and monitor potential risks to better serve the sound operation of the financial system and sustainable development of the real economy.