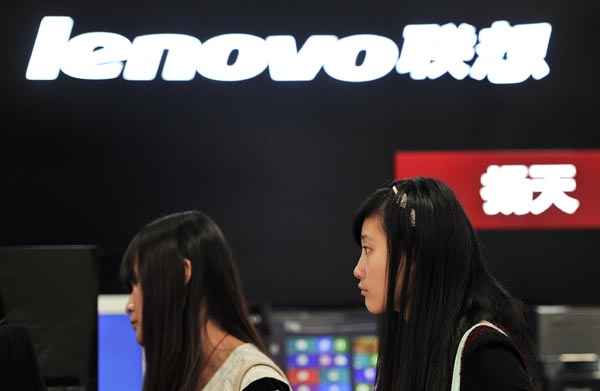 A Lenovo Group Ltd shop in Hefei, Anhui province. Lenovo has resumed talks to buy IBM's low-end server unit, a move that would bolster its efforts to diversify beyond a shrinking PC market. Reuters
Acquiring low-end server business called a win-win deal for both sides
Buying IBM Corp's server unit will help Lenovo Group Ltd to become the biggest x86 server provider in China, as well as a strong global player, industry insiders said.
The comments came after media reports said the Chinese company is close to acquiring IBM's low-end server business after a year of negotiations.
Lenovo said on Tuesday it is in "preliminary talks" on a possible acquisition, but it did not identify the target.
But the Beijing-based company is eyeing IBM's server arm and the companies are likely to sign the deal "within weeks", Bloomberg News reported, citing an unidentified source.
It will be a win-win deal for both sides, especially Lenovo, which is eager to build a stronger server production line, analysts said.
"Lenovo expects x86 servers to drive top-line and bottom-line growth, because x86 servers still offer higher margins than personal computers," said Gene Cao, senior analyst at industry consultancy Forrester Research Inc.
"Lenovo intends to improve its capability in providing high-end x86 servers, such as four-socket servers, which can be directly improved through the acquisitions," according to Cao.
"The acquisition will definitely help our business because the unit from IBM will give us more resources in terms of hardware manufacturing," said a manager at Lenovo's server arm, who declined to be identified.
"A stronger manufacturing capability and the existing partnership with EMC Corp will give Lenovo a bigger market share in China," he said.
United States-based manufacturer Dell Inc was the top server provider in China as of the third quarter. Dell held more than 20 percent of the nation's x86 server market at that point, according to IDC.
In 2012, Lenovo and US-based data storage company EMC formed a joint venture to develop server and storage equipment.
The joint venture mainly targets Chinese customers, though it might expand to West Europe and Russia by 2016.