Lackluster economic data weigh on index, which drops below 2,000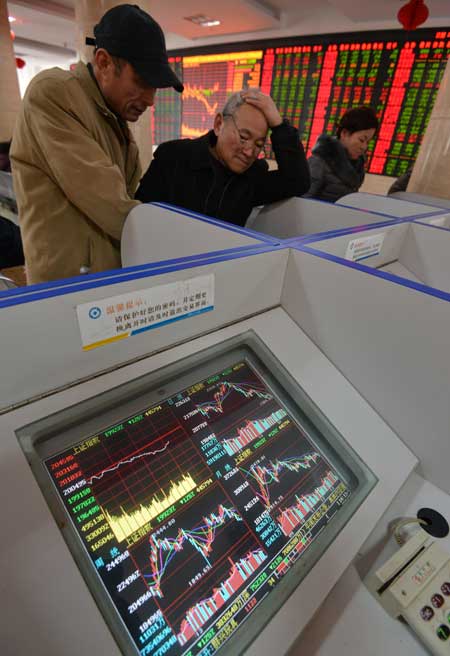 Investors make trades at a brokerage in Fuyang, Anhui province, on Monday. The benchmark Shanghai Composite Index declined 0.68 percent to 1,991.25 points, with transactions contracting to 48.3 billion yuan ($7.9 billion) from 57 billion yuan on Friday. LU QIJIAN / FOR CHINA DAILY
Chinese equities sank below the psychologically important 2,000-point level on Monday as slowing economic growth further undercut a market already weakened by higher short-term interest rates, tight liquidity and concerns about the resumption of new offerings.
The benchmark Shanghai Composite Index declined 0.68 percent to 1,991.25 points, with transactions contracting to 48.3 billion yuan ($7.9 billion) from 57 billion yuan on Friday.
Agricultural, oil, port, banking and pharmaceutical shares led the decline, after the government said that 2013 GDP growth slid to 7.7 percent — a 14-year low.
"In the absence of any major positive signals, a bearish atmosphere is overhanging the market. What's more, the odds of another cash crunch are growing as the Lunar New Year approaches," said Zito Ji, an analyst with a mutual fund based in Shanghai.
Lunar New Year begins on Jan 31 this year.
The seven-day Shanghai interbank offered rate rose to 6.32 percent on Monday from about 4.3 percent last week, as demand for cash surged before the Spring Festival.
Liquidity has also tightened as banks park corporate tax-payment funds with the central bank. The People's Bank of China, for its part, didn't inject liquidity into the market last Thursday as it suspended its usual open market operations.
The central bank has provided emergency liquidity to support large commercial banks through its standing lending facility and will inject additional funds in open market operations on Tuesday, authorities said on Monday.
The move comes as a key interest rate that banks charge for short-term loans to each other equaled a six-month high on Monday, due to seasonal cash demand ahead of the Chinese Lunar New Year holiday.
The announcement also comes after sources said on Monday that smaller banks would be able to access emergency short-term loans through the SLF.
"What happened in December may exacerbate the liquidity situation as banks take a cautious stance in the interbank market," Zhang Zhiwei, chief China economist at Nomura Securities Co Ltd, wrote in a note.
The seven-day repurchase rate hit 10 percent on Dec 23, compared with about 4.5 percent on Dec 16, after the PBOC provided liquidity to targeted recipients rather than inject liquidity into the interbank market.
That action raised the fear of default among financial institutions.
Cyclical industries are being hardest hit now as credit crunch concerns linger in China's equity market. China Shenhua Energy Co Ltd, the nation's largest coal producer, slid 1 percent to a record low of 14.09 yuan on Monday.
Anhui Conch Cement Co Ltd, the biggest cement producer in the nation, retreated by more than 3 percent in both Shanghai and Hong Kong.
The benchmark Shanghai index is down 5.7 percent already this year.
Problems with initial public offerings are another weight on the market. The authorities resumed IPO approvals in late December after a suspension of about one year, but analysts said investors are disappointed that new regulations have failed to curb overpricing and cash-out behavior.
Even as the equity market declines, foreign institutional investors are accelerating their purchases of blue chips.
Qualified foreign institutional investors opened 45 new A-share accounts in December, the largest number for the year, according to the China Securities Depository and Clearing Co Ltd.
Their transactions have picked up, too. From Jan 1 through last Thursday, QFIIs bought 172 million shares valued at a total of 2.13 billion yuan, according to calculations by the Securities Daily. That compares with about 101 million shares valued at 740 million yuan for all of December.
"Based on QFIIs' preference for long-term, value investment, it's highly possible that many institutions have invested in large-cap shares," said Xin Yu, president of Guangzhou based Zequan Investment Co Ltd.
"Small caps were strongly inflated in 2013, in comparison with the continued depressed valuation of blue chips. I believe it's very likely that a time for revaluation will come this year, but not now," he added.
Industrial and Commercial Bank of China Ltd, the top State-owned lender, closed at 3.4 yuan, below book value. Nearly 90 percent of Chinese bank stocks are trading below book value and at about five times earnings.
Many people are skeptical about China for very good reasons, Richard Titherington, head of global emerging markets at JPMorgan Asset Management, said in an interview with CNBC. The question from an equity market investor's perspective was to what extent has that all been priced in.
"Given the fact that they are low valuations, a lot of very legitimate concerns are already priced in," he said.
Chen Li, chief China strategist at UBS Securities Co Ltd, said the firm maintains the view that "there can be no construction without destruction", and it expects the A-share market to fall further before rising in 2014.