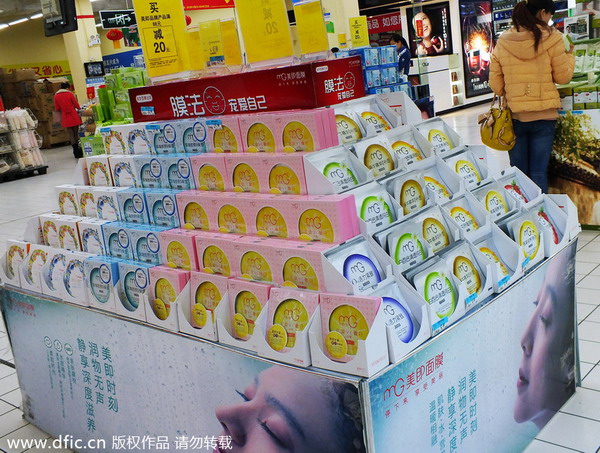 Cosmetics products made by Magic Holdings International Ltd are seen at a shopping mall in Yichang, Hubei province, Dec 14, 2013. L'Oreal SA has been officially approved by China's Commerce Ministry to proceed with its acquisition of Magic Holdings International Ltd. [Photo / dfic.cn] 
A joint statement issued by L'Oreal SA and Magic Holdings International Ltd on Monday confirms approval by the Ministry of Commerce to proceed with the acquisition of Magic by L'Oreal.
According to L'Oreal, the transaction is expected to close during the second quarter of 2014.
In a joint statement on the proposed acquisition in August 2013, L'Oreal was to acquire all shares of Magic, a company listed on the Hong Kong Stock Exchange, at the proposed price of $HK6.30 (81 cents) per share.
"Relying on Magic's highly talented management team, L'Oreal intends to develop this Chinese brand by contributing its science-based expertise and using its advanced and applied research in China and across the world," the French group said.
Following Mininurse and Yue Sai, Magic becomes the newest addition to L'Oreal's Consumer Products Division in China, spearheaded by two worldwide leading brands: L'Oréal Paris and Maybelline New York.
Magic, a Chinese skin care company best known for its facial masks, reported 150 million euros ($205 million) of revenue in 2012, a 29 percent increase from a year earlier.