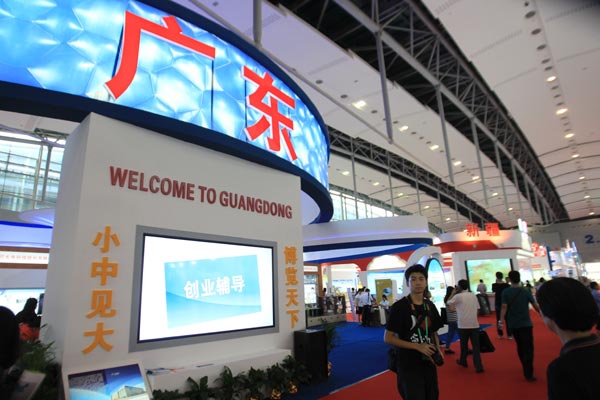 A booth showcasing Guangdong-based businesses at an expo in Guangzhou, the province's capital. Guangdong is currently seeking central government approval of a Guangdong-Hong Kong-Macao free trade zone. Provided to China Daily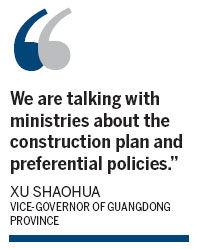 Southern province aims to capitalize on links with neighboring regions
The Guangdong provincial government has vowed to realize liberalization of trade in services in the South China province and its neighboring Hong Kong and Macao special administrative regions by this year through CEPA (the Closer Economic Partnership Arrangement).
"It is a task assigned to Guangdong by the State Council," Vice-Governor Xu Shaohua told a Monday news conference. "We are striving for the central government's approval of specific preferential projects and policies.
"At the same time, we will open up more fields for investors from Hong Kong and Macao, including those in the service sector, using a 'negative list'."
Xu also said Guangdong is currently seeking central government approval of a Guangdong-Hong Kong-Macao free trade zone.
"We are talking with ministries about the construction plan and preferential policies," Xu said.
At a joint meeting between Guangdong and Hong Kong in September, Guangdong Governor Zhu Xiaodan said that the new free trade zone will focus on liberalizing trade and building a platform for the cooperation in the high-end service industry, capitalizing on Hong Kong's reputation as a premier international finance center.
A focus on liberalizing trade in services will set this free trade zone apart from the China (Shanghai) Pilot Free Trade Zone, which focuses on financial openness, according to Lin Jiang, dean of the public finance and taxation department of Lingnan College at the Guangzhou-based Sun Yat-sen University.
"The volume of trade in services has surpassed that of trade in goods in international trade," said Lin, who also is vice-director of the university's research center of Pearl River Delta, Hong Kong and Macao.
"The Guangdong-Hong Kong-Macao free trade zone is the pilot zone in China to make breakthroughs in fields such as offering tax refunds for service exports, which are intangible goods," Lin said.