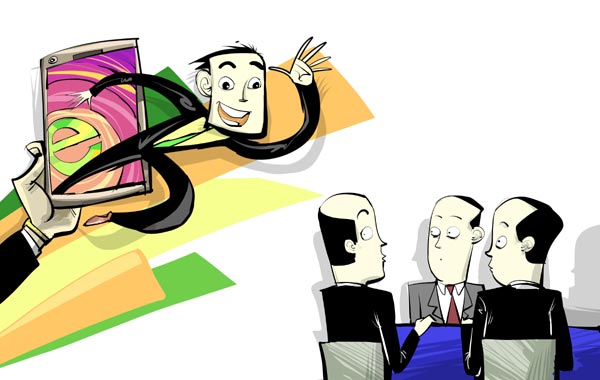 [Photo / China Daily]
New-tech firms play clever game in taking on the old guardian of money
There is a saying in Silicon Valley that "software is eating the world". Attributed to the Californian entrepreneur-turned-investor Marc Andreessen, it describes a phenomenon in which traditional industries are increasingly being taken over by software and operating online.
"We are in the middle of a dramatic and broad technological and economic shift in which software companies are poised to take over large swathes of the economy," he wrote in The Wall Street Journal two years ago.
Machines have been replacing human workers since the Industrial Revolution. What's different this time is that the replacing is happening beyond manufacturing, in service industries such as education and retail. And instead of machines, it is software, often aided by the Internet, that is nudging out humans.
In the past 20 years or so, technology innovation, including development tools, network technology and artificial intelligence, has been so efficacious that no industry is immune any more.
The latest example in this evolution is taking place in China, in the finance sector. Following Alipay's entry into personal finance, other Chinese Internet juggernauts have rushed to introduce their own financial services.
The new wealth management site of China's dominant search engine Baidu Inc was so popular that its servers had difficulty accommodating online visitors - and it's no stranger to handling heavy Internet traffic.
Unlike some of the more conservative and slow-moving industries such as education, the world of finance has been rather open to technology innovations.
Machine-controlled trading algorithms have long been a major player on Wall Street, beating human brokers with their speed and precision and giving rise to successful "quant funds" such as Renaissance Technologies.
Financial institutions, with their generous budgets, eagerly seek every advantage and are often early adopters of new technology.
With Alipay and Baidu's latest movement, the direction has been reversed. Instead of well-endowed financial institutions adopting the latest technology, it is technology companies, especially Internet companies, that are making a foray into finance.
At the moment, the likes of Baidu are mostly staying on the retail side of the business. They are not peddling their own financial products, but are leveraging their huge traffic and partnering with traditional financial institutions.
Seen in this light, this latest development might come across as less groundbreaking than it initially appears. But this is not to say that it does not present a significant step. Because it is often the case when the Internet gets involved in an industry, inevitably more transparency and tougher competition soon follow.
A case in point is the movie rental business after Netflix Inc came onto the scene. Netflix, riding on people' adoption of the Internet and DVD, fought a head-to-head battle with incumbent player Blockbuster LLC for the online movie rental business. Although Blockbuster had the brand and a well-financed team, it eventually lost out to the upstart.
After a race to cut rental fees and improve services between the two companies, movie viewers were the ultimate beneficiaries.
Limited selections and late fees became a thing of the past. Blockbuster has gone bust, while Netflix continues apace with its strong tech expertise and customer service culture and now dominates the new Internet video-on-demand market.