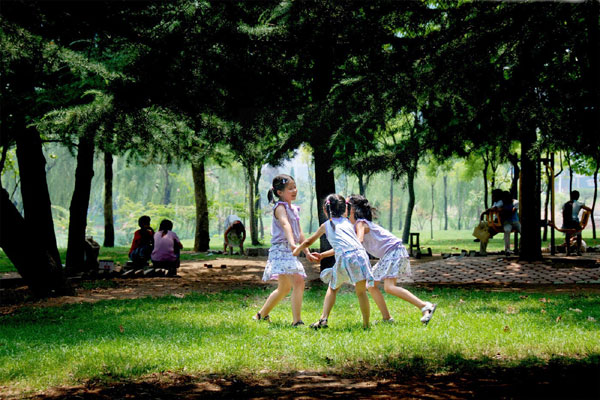 Children have fun in a forest in Yiyuan county, Shandong province on May 4, 2010. [Photo/Xinhua]
BEIJING - Output of China's forestry industry rose 13 percent year on year to 4.46 trillion yuan ($726.4 billion) in 2013, the State Forestry Administration (SFA) announced Thursday.
Forestry imports and exports hit $125 billion, up 5.2 percent year on year, according to SFA data.
Zhao Shucong, head of the SFA, the country's top wildlife and forestry agency, said during an annual work conference that the administration will focus its work on boosting the scale of the industry as well as further protecting the country's wetland resources.
The country produced 83.67 million cubic meters of wood-based panels last year. Forest tourism attracted 780 million people in 2013, an increase of 15 percent year on year, according to the SFA.
Forest coverage totaled 195 million hectares, or 20.36 percent of the country's total area, as of the end of 2008. The government aims to increase the coverage to 23 percent by 2020.
Forestry output is expected to hit 9 trillion yuan in 2020, according to a SFA forecast issued in 2012.
In China, forests are defined as woods covering an area of more than 1 mu (about 667 square meters) with a crown density - the amount of sunlight blocked by plant material - at or above 20 percent, according to the SFA.