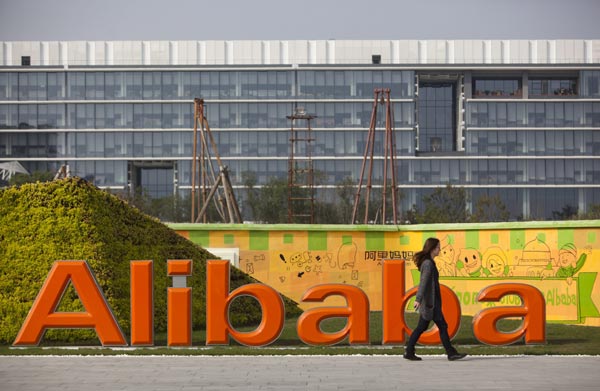 An employee walks past the logo of Alibaba Group at its new base on the outskirts of Hangzhou, Zhejiang province. Alibaba said it plans to build a healthier and more open environment for the mobile game industry in China. Provided to China Daily
Jack Ma, founder and chairman of Alibaba Group Holding Ltd, said previously that the e-commerce giant would never enter the mobile game business. However, it seems that Ma now believes that China's gaming market is too tempting to resist.
After two of China's top-three Internet giants - Tencent Holdings Ltd and Baidu Inc - saw some lucrative achievements in the gaming industry, Alibaba said on Wednesday that it will launch a mobile gaming platform.
To catch up with other mobile game distributors and conquer enough game developers in a relatively short time, Alibaba announced an attractive revenue-sharing model, which will enable game developers to boost profits.
According to Liu Chunning, president of Alibaba Digital Entertainment Group, the new model will allow game developers to keep 70 percent of the sales revenue, while Alibaba will take 20 percent to cover distribution and marketing costs. The remainder will be donated to charity.
"Alibaba plans to build a healthier and more open ecosystem for the mobile game industry in China," Liu said.
Alibaba's move may change the landscape of the nation's mobile game industry, in which game distributing platforms and publishers often make more money than game developers because they control the "gateway" to gamers.
China's booming mobile game market was worth more than 10 billion yuan ($1.65 billion) in 2013, up 150 percent from the previous year, according to the 2013 China Gaming Industry Report. Last year, the number of mobile gamers in China soared 248 percent year-on-year to 310 million, representing 63 percent of the total online gamer base.
"Whether it's from the point of view of customer demand or it's from the point of view of monetization, mobile games are too big a cake for Alibaba to pass up," said Cao Di, an analyst at iResearch Group, a Beijing-based consulting firm.
With Alibaba's move, game developers will have more choices in terms of distribution platforms for their games.
"This is certainly good news for gamers," Cao said.
The share prices of four listed Chinese companies in the mobile game business, including Huayi Brothers Media Corp, hit their upper limit on Wednesday.
Cao said that Alibaba's foray into mobile games is part of a broader strategy to enter the mobile Internet sector, which is very competitive.
Tencent is a major player in the sector with its mobile chat app WeChat, one of the most popular social networks in China.
WeChat, which has more than 400 million registered users, has become a key game-distributing channel in China.
Alibaba is not hiding its intentions to steal some of Tencent's limelight in the mobile gaming sector.
"We're very unhappy about Tencent's dominating position in the gaming industry, and we're going to fight for a healthy ecosystem in the sector," said Wang Shuai, an Alibaba spokesman.
However, many analysts said that Alibaba will have a hard time, at least in the short term.
Xue Yongfeng, an analyst with Beijing-based research firm Analysys International, said that most of Tencent's products, such as QQ and WeChat, are social networks, which can easily turn users into gamers, because most of their users are looking for fun apps.
"The majority of Alibaba's products, such as Taobao.com and Tmall.com, are for online shoppers. It will be difficult for Alibaba to turn those people into game players," said Xue.