Sundiro president believes a bright new business is on the horizon for his firm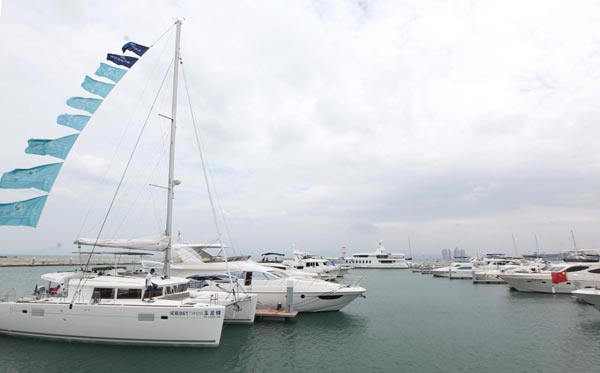 An international yacht exhibition in Sanya, Hainan province. Hainan plans to complete the construction of 25 public yacht marinas by 2030. Provided to China Daily
What would you buy if you became very rich? A luxurious mansion, a private jet, perhaps a Rolls-Royce?
They are not priorities for motorcycle veteran Zhao Xuhong.
"Yachts are becoming the most popular 'toy' among the Chinese super-rich. And I believe China's yacht industry is on the eve of a great boom," said Zhao, president of Sundiro Holding Co, an A-market listed company in China. It started up with motorcycle manufacturing and now covers business as varied as coal mining to real estate development.
As the motorcycle market in China started to become saturated, Zhao has been looking for new growth engines for his company.
Last year, he entered the business of yacht manufacturing and sales. His company has become the third in China to acquire considerable stakes in the world's top shipyards.
Sundiro just made a major investment in Italian shipyard Sanlorenzo. Both sides agreed to set up a joint venture, building yachts from 36 to 66 feet (about 10 to 20 meters) in coastal Hainan province. The company will invest as much as 25 million euros ($33.99 million) in this deal.
Compared with other Chinese companies' moves into the yacht sector, Sundiro seems very cautious. Chinese conglomerate Dalian Wanda Group was reported last June to have acquired British yachtmaker Sunseeker International for $470 million. In 2012, construction and agriculture machinery giant Shandong Heavy Industry Group bought a controlling stake in debt-laden Italian luxury yachtmaker Ferretti SpA in a deal worth about $500 million.
Based on an agreement, Sundiro will control no less than 21.74 percent of Sanlorenzo after this round of investment - and no more than 49 percent in the future.
"We are not injecting huge capital into Sanlorenzo and we are not targeting a controlling stake because we want to keep the genes of a luxury brand," said Zhao.
"Chinese companies are currently taking stakes in three of the world's top four yacht manufacturers," said Patrick Becker, chief executive officer of Bexuco Investment Consulting, based in Shanghai.
It will certainly have a strong medium- and long-term impact on the structure of China's domestic and overseas yacht markets, Becker said.
"In addition to the change of ownership structure overseas, the Chinese investors are building new yacht manufacturing facilities in China," he said. "The new yards in China will intensify the current Chinese market development and increase awareness for an entirely new group of customers."