A dozen shipments of corn imported from the United States containing unapproved and genetically modified ingredients were denied entry by China in December 2013. Since China relies heavily on imported grain to guarantee its supplies, the action was considered by some market analysts as an unusual change. The change was confirmed as expected at the Central Rural Work Conference held in Beijing on Dec 23-24, 2013. China's new leadership hopes that the bowls Chinese people will mainly be filled with domestically produced grain.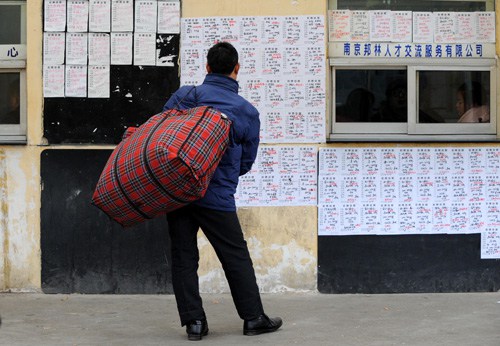 A migrant worker at a job market in Nanjing, Jiangsu province.[Photo/bjreview.com.cn] 
China has long been a large agricultural nation, therefore the work concerning agriculture, countryside and farmers (the three rural issues) have always been the top priority of the Chinese government. The Central Rural Work Conference provided the first opportunity for the country's new government to make plans for the three rural issues.
Besides ensuring domestic production of grain, the conference also made decisions about the position of agriculture, safety of farm produce, land rights, development of rural areas and raising farmers' income.
Cheng Guoqiang, a researcher with the Development Research Center of the State Council, thinks this conference has conveyed that the Chinese government will, with the aim of boosting agricultural output to guarantee the country's grain security, enrich the lives of farmers and accelerate the building of a well-off society in the countryside. They also seek to change the situation of agriculture falling behind other industries in economic and social development, and explore a road of agricultural modernization with Chinese characteristics.
Top priority
To feed the more than 1.3 billion people has always been the top priority for the Chinese government. The Central Rural Work Conference proposed to uphold the national grain security strategy of mainly relying on domestic production, ensuring production capacity, importing grain in appropriate quantity and boosting agricultural scientific development. "Filling the bowls of the Chinese, in any situation, must rest soundly in our own hands," a statement released after the conference read.
Dang Guoying, a researcher with the Rural Development Institute of the Chinese Academy of Social Sciences (CASS), thinks that although China has been stressing grain security, the conference more clearly emphasized taking initiatives to ensure food provisions.
According to Dang, currently China has adequate provisions in terms of both variety and quantity. However, there are hidden risks in grain production. The government has to encourage farmers to grow grain with high prices. For reasons of technology and scale, grain production costs in China are higher than in the United States and Brazil, where agriculture is highly developed. If China allows massive imports of cheap foreign grain, once global grain prices—which have remained low for a long time, start to rise—China will face great pressure. Hence it is timely and necessary that this conference puts forward a national grain security strategy.
It is never easy to make "Chinese bowls filled with Chinese grain." In recent years China's grain imports have been increasing. Since 2011, the country has become a net importer of wheat, rice and corn. Now China can ensure absolute security of provisions, but relies on imports for soybeans.
In regard to concerns that grain provisions will repeat the soybean situation in the future, this conference emphasizes the target to ensure self-sufficiency in cereal and absolute security of provisions. "This can be considered a red line for national grain security," Cheng said.
The conference first emphasized that a red line should be drawn so the arable land never falls below 1.8 billion mu (120 million hectares). For soaring real estate prices, some scholars propose breaking through the red line and curbing estate prices by increasing land supplies in cities. The conference indicated that the Chinese Government will not solve the problem of high estate prices at the cost of grain security.
Xu Hongcai, Director of the Information Department of the China Center for International Economic Exchanges, said strictly following the red line on arable land is the basis to ensure self-sufficiency for most varieties of grain. By reemphasizing on the red line the government intends to take preventive measures. During the process of urbanization, China must set up a uniform land market between urban and rural areas, promote orderly transfer of rural land use rights and improve land concentration and scale of use. China has a large population but small amount of arable land, therefore it cannot randomly use arable land for other purposes. If the red line for arable land is crossed, grain security will be threatened.
After guaranteeing the red line on arable land, there must be a workforce to cultivate the land. Since the income from agriculture is much lower than urban jobs, many farmers have abandoned their land and become workers in cities, leaving some arable land idle. The conference also proposed solutions to this problem.