Education providers will directly benefit from China's new second-child policy as the market will expand, industry insiders said.
"The number of children will definitely increase in the future, because more children will be born after the new policy is implemented," said Wang Ning, chief executive officer of Best Learning English, a Beijing-based school for children, which offers several subjects in English.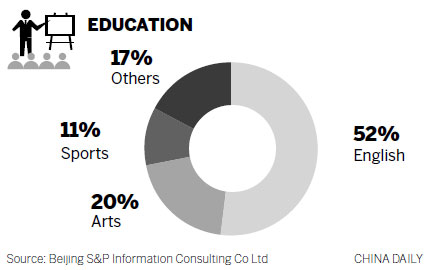 Wang said the rise in the number of children will enlarge the education organizations' target group.
The company's revenue increased more than 100 percent in 2013 compared with 2012, he added.
He also said the company plans to increase its training centers from 30 in 2012 to 100 in 2015.
More children will attend quality education classes, such as arts, music and science, because parents who have two kids will care more about their children's interests, rather than just their grades at school, he said.
"The business of training centers specializing in examination-oriented education will falter," Wang said.
Also, the second-child policy can help education providers to cut marketing costs.
If parents send one of their children to the center, they will likely send their second child to the same center, said Wu Ying, founder of First Leap, an education company aimed at children aged between 2 and 12.
Wu, who is the father of two children born in the United States, said that families with two kids in big cities will likely have the financial capacity to spend more on education.
First Leap offers a discount of 22 percent in tuition fees to families that send their second child to its centers to ease the families' financial strain.
However, the new policy will not bring a short-term boom for the education industry business, insiders said, because it will take a long time to see a significant increase in the number of newborn children. Some parents said that they don't plan to send their children to education centers, even if they have more than one.
"My two kids will be able to play with each other at home. Why send them to education centers?" said Huang Hui, a 29-year-old woman living in Beijing. The most important function of education centers is to help children make friends, if they don't have any playmates at home, she said.