Development, servicing to eventual disposal is the ultimate goal, adds automation executive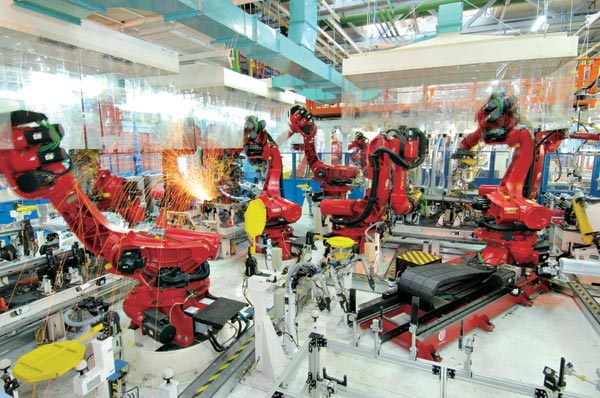 An engineer of Comau (Consorsio Macchine Utensili), an automobile manufacturing line producer and a client of Siemens PLM Software, uses the German company's software to conduct designing and for simulation experiment. Provided for China Daily
Chuck Grindstaff, a US citizen who runs a German-backed industry automation company, sees China as his biggest market over the next decade for a software called lifecycle management that acts as a guardian of a product.
The chief executive officer of Siemens PLM Software, said China will be the company's top buyer of its products in 10 years although some Western entities are moving manufacturing plants back home.
"China is moving to a later stage of growth of high value and high quality manufacturing and an environment where innovation and engineering and creation of its own products are growing," said Grindstaff.
As more local companies start to understand the importance of innovation and cost control, Siemens PLM plans to receive more Chinese customers from next year.
The Plano, a Texas-based company, develops software used to manage the entire lifecycle of a product from designing, manufacturing, to deployment and disposal.
Machinery manufacturing is the best sector to showcase the beauty of PLM software.
Engineers and designers can use PLM software to build a yacht using a computer and send the blueprint to a shipyard. Workers at the shipyard will use the same system to monitor the building process and cut short the manufacturing time. Decorators can also use the PLM software to decide when will be the best time to move in the furniture so work on the floors won't be interfered with.
Even after the yacht is handed over to its owner, the lifecycle management software can continue to oversee the sea-worthiness of the boat and tell the sailors which parts need attention.
Following the same idea, PLM can be used in almost all manufacturing industries from space engineering to making shoes.
Chinese manufacturing companies, known for their high labor intensity and low development input, will be able to focus on product design and innovation and hire fewer entry-level workers on the front line, said Christopher Holmes, head of Singapore-based Asia-Pacific IDC Insights.
Turnover of the Chinese comprehensive PLM market reached $1.16 billion in 2012, representing a year-on-year increase of 16.2 percent, according to a Siemens estimate.