Propelled by the policy change, multinational companies in the baby diaper industry have embarked on expansion plans in China.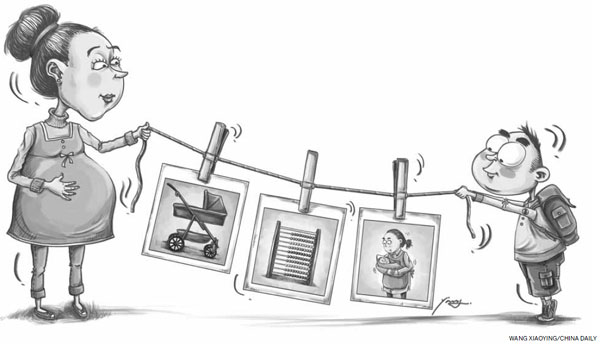 Procter & Gamble Co, the world's leading consumer commodity producer, opened its 11th factory in China in November. The first phase of the project is focusing on the company's Pampers paper diapers.
Kimberly-Clark China invested more than $100 million to set up new disposable diaper production base in Nanjing, Jiangsu province in March 2012.
Kao Corp, a Japanese chemical and consumer goods producer, which entered the China market in 1993, has officially launched its baby paper diapers in China.
According to Shi Dawei, brand manager in the infant health products department of Kao Corp, disposable paper diapers represent the fastest-growing sector of the baby products market, and he said, sales are likely to grow at a double-digit annual pace.
In China, the baby paper diaper market penetration rate is only 30 percent, while in North America and Japan, the rate has reached 95 percent, according to Beijing S&P Information Consult Co Ltd.
The company said China's baby disposable diaper market generated revenue of 20.11 billion yuan ($3.28 billion) in 2013, up 19 percent year-on-year.
"Coupled with the low market penetration rate, the relaxed family planning policy will increase demand for baby paper diapers, and the market is expected to witness tremendous growth," said Yan Miao, an analyst at Beijing S&P.