New battle for 4G equipment market share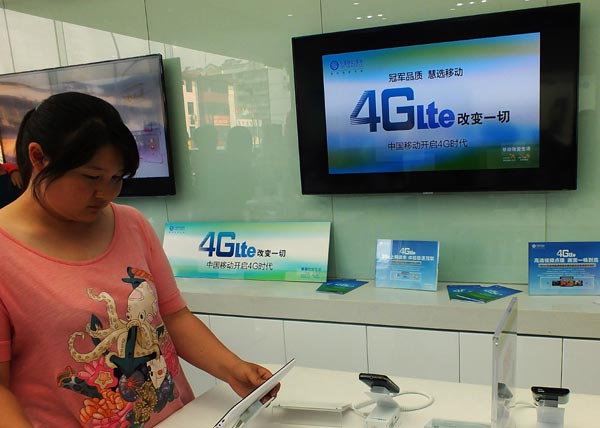 China Mobile's 4G technology on display in Yichang, Hubei province. [Photo / China Daily]
China Mobile Ltd has officially launched its largest tender ever for the construction of its fourth generation (4G) network in China, igniting a new battle among telecom gear makers for market share.
On June 21, China Mobile, the world's largest telecom operator by subscribers, posted an online tender saying it plans to purchase equipment for 207,000 4G base stations.
That purchase means the number of China Mobile's 4G base stations is likely to catch up with that of its 3G base stations soon.
China Mobile is using the domestic Time Division-Long Term Evolution technology for its next-generation mobile network.
Unlike its 3G tenders, China Mobile said it will not accept agent bidders or those who make all critical equipment on an original equipment manufacturing basis.
The Chinese telecom operator's capital spending will jump 49 percent year-on-year to 190.2 billion yuan ($30.5 billion) in 2013. More than half of the company's network expenditure, or 42 billion yuan, will go on 4G projects this year.
Foreign and domestic telecoms equipment vendors have shown strong interest in China Mobile's 4G network deployment.
Yuan Xin, president of Alcatel-Lucent China, said he is very optimistic about achieving a satisfactory result in the third quarter, when China Mobile announces the final bidding results.
"TD-LTE business will be the core foundation for Alcatel Lucent's future development," Yuan said at a Shanghai news conference on Monday. China's 4G industry is about to take off, since the market environment for LTE development has matured, he said. "Based on our solid technology and 4G experience in and out of China, we are confident of performing well," he added.
Alcatel-Lucent had the largest share, or 14.5 percent, among foreign telecom gear makers during China Mobile's first round of 4G tenders last year, according to research firm IHS iSuppli.
The company is the major telecom equipment supplier for Verizon Communications Inc's 4G network, which covers about 200 million subscribers in the United States.
"We even dream of introducing TD-LTE technology to the US market, which follows the trend that carriers worldwide want to make the best use of spectrum resources," he said.
Because foreign telecom equipment vendors achieved less than a 30 percent market share in total during the first round bidding of China Mobile's TD-LTE tender, they seemed more anxious to improve their positions by grabbing bigger shares this time.
"We are not satisfied with the results Ericsson achieved in China Mobile's first-round 4G bidding last year," said Mats H. Olsson, senior vice-president of Ericsson Asia-Pacific, during the 2013 Mobile World Congress held in Spain in February.
"In the past Ericsson paid a lot of attention to countries including the United States, Japan and South Korea and mainly focused on the deployment of FDD-LTE networks. Now we have turned our sights on China and TD-LTE technology," Olsson said.
However, analysts argued that domestic rivals still hold advantages over foreign players. Chen Peng, analyst with China Merchants Securities Co Ltd, said he expected Huawei Technologies Co Ltd and ZTE Corp to gain more than half of the share in China Mobile's 4G bidding.