Food waste hinders China's sustainable development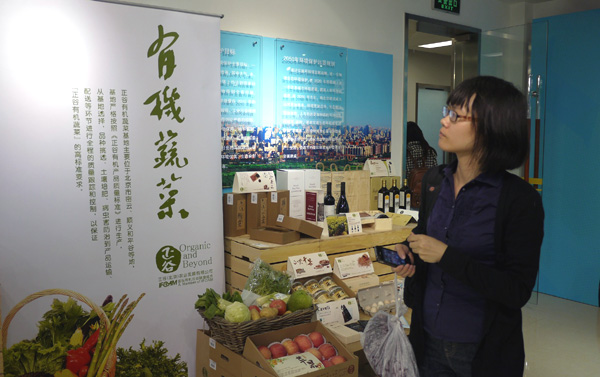 A vis
ito
r pa
sse
s an organic food stand at the exhibition hall in the
Beijing
Environment
al Protection Publicity Center, June 7, 2013. [He Yini / chinadaily.com.cn]
The growing amount of wasted food in China, soon to be the largest consumer market in the world, has largely undercut the country's green transformation amid economic restructuring while seeking sustainable development, experts said Friday in Beijing.
"Food waste has become a major part of urban landfill in China, largely eroding the country's ecological environment and sustainable development," said Liu Xiaojie, an expert with the Research Institute of Geographic Sciences and Resources under the Chinese Academy of Sciences, at the Sustainable Consumption Forum 2013 held Friday in Beijing.
Fresh statistics from the State Grain Administration show that food wasted annually in China is valued at more than 200 billion yuan, with an equivalent value of 80 billion kilograms of grains that can feed about 250 million people a year.
"What's behind food waste is the simultaneous waste of various natural resources which food production involves," said Edward Clarence-Smith, head of the China Regional Office of the United Nations Industrial Development Organization, also at the forum.
"We will continue to work with China to do more and better with less in seeking sustainable development," he added.
His words echoed the idea promoted at the World Environmental Day that was themed "Think, Eat, Save – Reduce Your Foodprint" on June 5, urging the whole world to cut food loss and waste to benefit people and the environment.
China initiated a frugality campaign nationwide last December, in a bid to curb consumption that uses public funds, and reduce restaurant extravagance and waste, among other things.
Liu Zhiquan, deputy directorial general of the Ministry of Environmental Protection, said that the country will continue to encourage sustainable consumption, reduce carbon emissions and energy consumption, and protect our ecological environment amid its ongoing urbanization and economic restructuring.
According to Liu, among the 20,000-plus products on the government purchase lists, more than 60 percent are environmentally friendly, which is a great encouragement to the strategically emerging industry amid the country's green shift.