Luxury fashion labels measure up to the competition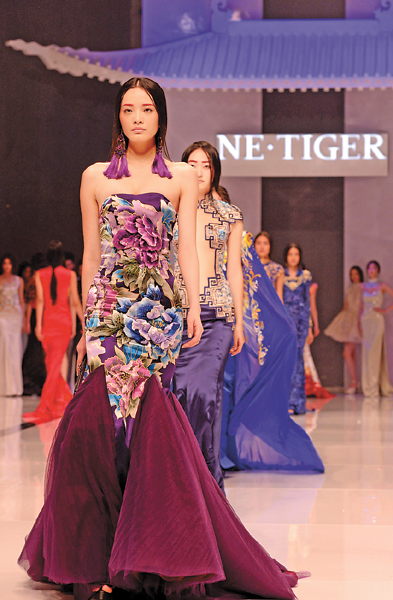 Models present its high-end made-to-measure dresses at NE Tiger's fashion show. The Chinese luxury fashion brand's annual output of made-to-measure luxury dresses hovers around the 2,000 mark. [Photo/Provided to China Daily]
Chinese luxury fashion brand NE Tiger recently sent three designers to Riyadh to make clothing for a member of Saudi Arabia's royal family.
The princess selected a blue dress with golden dragon embroidery that she saw at an exhibition in Riyadh in April.
All of NE Tiger's luxury dresses are made-to-measure, and usually take one to two months to complete.
But the domestic luxury dress manufacturer, which was established more than two decades ago, has only been in the black for the past five years, said Zhang Zhifeng, chairman of NE Tiger Fashion Company.
In order to transform itself from a giant in manufacturing and exporting clothes to a well-known domestic high-end designer brand, Zhang said he had to invest the profits gained from subcontracting into self-designed products.
His company exports about 20,000 fur items and garments annually to overseas department stores and other brands. "The company remains engaged in subcontracting, although this is becoming a smaller proportion of our business," Zhang said.
He said that the company's urgent task is to boost domestic demand for its made-to-measure luxury clothing brand.
At the moment, NE Tiger's annual output of made-to-measure luxury dresses hovers around the 2,000 mark.
NE Tiger is also working on building a garment department to manufacture daily wear, such as business suits.
Despite costing at least 30,000 yuan ($4,760) per item, NE Tiger's luxury clothing business operates on a narrow profit margin since various traditional Chinese tailoring technologies are used.
"We need a higher production rate to support the business," Zhang said.
Some other Chinese fashion brands consider the high-end market a mountain that is too hard to climb, while NE Tiger is already there and is hunting for more customers.
Like NE Tiger, the nation's other high-end made-to-measure fashion brands have struggled with fierce competition from their international peers, as many Chinese customers have developed a taste for foreign luxury brands.
But the nation's fashion business was boosted overnight when China's first lady Peng Liyuan made her diplomatic debut wearing clothing tailored by domestic fashion designers, sparking discussions about the rise of local fashion brands.
"The image of the first lady wearing a Chinese fashion brand showcased our capabilities to the rest of the world," said Zhang.