Lenders to 'face challenges'
Deloitte says industry likely to see slower profit growth this year
China's banking industry will see single-digit profit growth and its credit asset quality will face challenges this year, according to a report released by Deloitte on Tuesday.
"The economic development slowdown and steady progress in interest-rate liberalization will ease the profit increases of commercial banks, while business operating and credit costs are expected to continually rise," the report said.
Wang Pengcheng, a Deloitte partner in the financial services industry in China, said: "Deposits and loans may maintain similar growth rates as in 2012, but the income from net interest margins is likely to shrink."
A separate report from the company showed that by the end of last year, public banks in China achieved 15.4 percent growth in total assets from a year earlier, compared with 16.7 percent in 2011.
Their annual net income growth slowed sharply to 17.3 percent in 2012 from 29 percent in 2011. Profit from net interest margins between deposits and loans rose 16.3 percent last year, down from 24.9 percent in 2011, Deloitte said.
"Much attention should be paid to the quality of credit and to preventing the fast expansion of non-performing loans, especially rising regional default risks," Wang said.
Deloitte also predicted interest rate liberalization will continue in 2013. Banks may provide stronger credit support for urbanization development and accelerate business internationalization, it said.
According to a report from the International Monetary Fund on Monday, the overly rapid expansion of social financing in past years has threatened the sustainability of China's economic growth.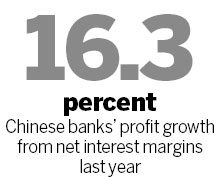 By the end of March, the asset value of Chinese banks had reached 138 trillion yuan ($22 trillion), up 7 trillion yuan from the end of 2012, and compared with 62.4 trillion yuan in 2008, according to the China Banking Regulatory Commission.
Since 2008, new loans have increased by about 35 trillion yuan, more than half of the total incremental asset value.
The banking industry's assets in the United States stood at $13 trillion by the end of last year, according to the Federal Reserve.
Liu Shiyu, vice-governor of the People's Bank of China, wrote in an article last week that the major Chinese banks, including Industrial and Commercial Bank of China and China Construction Bank, may see a capital shortage of 40.5 billion yuan in 2014, if they keep growth and internal financing at current levels.
"The capital gap may reach 1.66 trillion yuan in 2017," Liu said.