New bank lending predicted to slow in April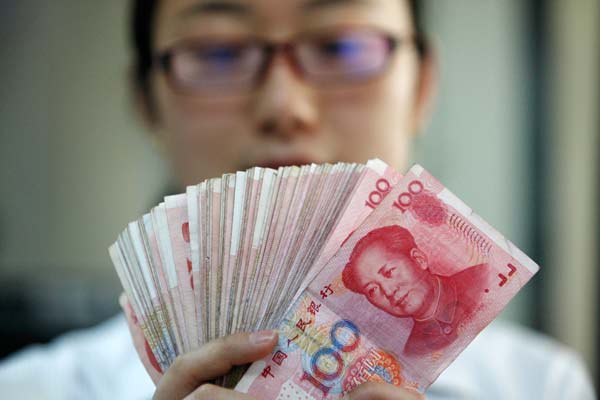 An Industrial and Commercial Bank of China Ltd branch in Huaibei, Anhui province. In the first three weeks of April, the Big Four State-owned commercial banks extended loans of 130 billion yuan ($21 billion), slower than the pace in previous months, China International Capital Corporation Ltd said in a report. XIE ZHENGYI / FOR CHINA DAILY
New yuan loans extended by Chinese banks in April could fall to as low as 700 billion yuan ($113 billion), down from March's 1.06 trillion yuan, as economic growth falters, analysts have warned.
With the central bank expected to release new lending and social financing figures this week, Lian Ping, chief economist at Bank of Communications, said economic data for the first quarter suggests the economy still lacks momentum, indicating only moderate credit demand.
"Less deposits among banks at the beginning of a quarter would usually restrain lenders from extending more loans, due to fixed loan-to-deposit ratios," he said.
Although stronger supervision of non-bank financing activities could channel some financing demand back into traditional banking loans, Lian added new loans in April will probably fall from March levels.
Net new loans increased to 1.06 trillion yuan in March, close to January's level, and registered a 12.2 percent growth year-on-year in the first quarter.
Total social financing rebounded to 2.54 trillion yuan in March from 1.07 trillion yuan in February, much stronger than expected. And trust loans surged to 430.6 billion yuan in March, the highest level recorded.
But Chang Jian, China economist with Barclays Capital, predicted the expansions in total social financing and new loans in the first quarter were unlikely to be sustained.
"We expect monthly numbers to come down, after the regulators strengthened quota controls.
"The strong first-quarter results reflected pent-up demand from the end of 2012 and a pickup in demand after the Chinese Lunar New Year holiday," said Chang.
Lu Zhengwei, chief economist at Industrial Bank Co, said he expected new loans in April would be somewhere between 800 billion and 1 trillion yuan, based on historical figures.
"Judging from the credit growth pace in first three months, the overall credit will be stable this year," added Lu.