Hilton hotels heading for roll in China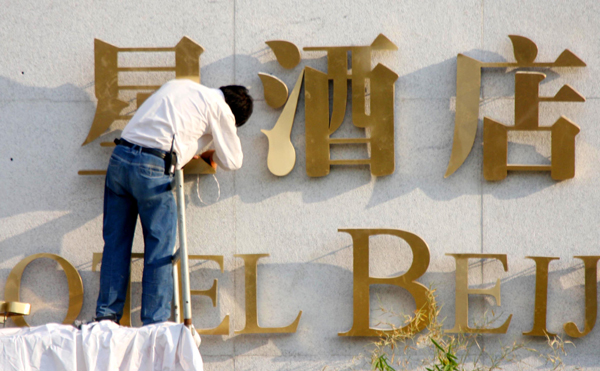 A worker fixing a hotel logo on the outside wall of a hotel inn in Beijing managed by an overseas company. China has more than 60,000 hotels with 14,000 given stars. The rapid development of hotels in the country is in sharp contrast to the slowdown of the global hotel industry. [Photo/Provided to China Daily]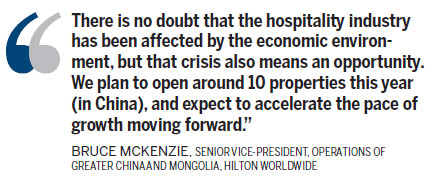 US hospitality chain embarks on rapid expansion to catch up with global peers
Hilton Group, the US-based hospitality chain, is launching a mid-scale brand called Hilton Garden Inn in China to cater to the needs of the fast-growing number of business travelers.
Francis Lee Wee-Hau, senior vice-president of Development, Greater China and Mongolia, for Hilton Worldwide, said the brand will be launched in five Chinese cities, including Lijiang, Chengdu, Harbin, Dandong and Huzhou, and will be expanded later to more second- and third-tier cities.
Meanwhile, the group already opened the doors of its contemporary luxury hotel in downtown Beijing in March. The hotel, the company's fifth Conrad hotel in China under the Hilton Hotel & Resorts brand, is part of the group's expansion strategy to cash in on the fast-growing and lucrative Chinese tourism market.
"Across the 289 rooms in the hotel, we have 'smart luxury' as our core philosophy," said Alex Kassantly, general manager of Beijing Conrad Hotel.
Hilton Hotels & Resorts is also on track to achieve its ambition of expanding its presence from the current 32 hotels on the Chinese mainland with more than 12,000 rooms to more than 150 properties with 55,000 rooms in the next several years, he added. By 2015, the group will have hotels in 75 cities across the country.
Yang Honghao, a researcher with the China Tourism Academy, said in a report on China's hotel industry that the country has 60,000 hotels with 14,000 given stars. By the end of 2010, nearly 70 international hospitality brands from 41 countries and regions had entered the Chinese market, managing about 20 percent of the country's top-end hotels and taking 80 percent of the profits, according to Yang.
With only four brands present in China at the moment among its 10 hotel brands, Hilton Worldwide is working on introducing more brands to China.