HK gold retailers swamped by mainland buyers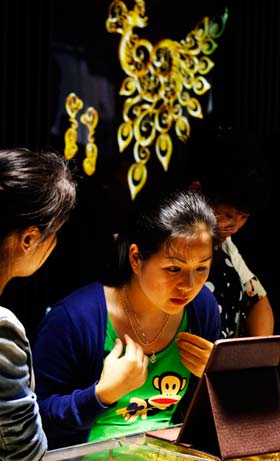 A mainland shopper tries a 24-carat gold necklace in a jewelry store in Hong Kong's Tsim Sha Tsui shopping district. Local and mostly mainland buyers have been crowding jewelry shops throughout Hong Kong in an attempt to grab a bargain during the May Day holiday. Bobby Yip / Reuters
Hong Kong retailers report they were swamped over the three-day May Day holiday by tens of thousands of mainlanders in search of one thing: cheap gold.
After the recent slump in gold prices, Hong Kong's already healthy community of gold shops, mainly in its traditional tourist areas, has increased, with a flurry of new openings. But traders report they have been overwhelmed by the mainland shoppers.
Gold prices in Hong Kong are lower than in the mainland.
On Wednesday in Causeway Bay there were long queues outside shops, which blocked the popular shopping area's narrow streets and sidewalks.
"It's cheap, so what else do you need to know?" said Wang Zhongxin, a shopper from Shanghai as he left one Chow Tai Fook outlet.
He had spent around 30,000 yuan ($4,760), or twice the monthly average wage in Hong Kong, on three gold necklaces and a couple of rings. He said he wanted to buy bullion, but they had already sold out.
Wang's mentality echoed that of many mainland gold shoppers, who believe the recent price slump had opened a perfect window to stock up on the precious metal.
"The gold price will definitely rise in the long term," he added.
Shoppers like Wang have been emptying gold stores in the mainland before coming to Hong Kong.
Beijing Caishikou Department Store, the biggest gold retailer in Beijing, has been seeing daily sales worth up to 100 million yuan since late April, several times their usual sales. Local media reported that the store had taken on extra staff to cope with the gold rush.
The China Gold Association reported that gold sales had tripled on many days.
The price of gold bullion has so far fallen 14 percent this year as investors worldwide sold the metal after a decade-long rally.
Related Readings
Gold glitters for many
Gold loses sheen, but still a safe bet
Price freefall prompts gold rush in China
Gold may be losing its luster
Chinese 'gold rush' amid price fall
Customers search stores for 'bargain' gold
Gold suffers biggest one-day drop since 1980s