Law to curb tourism price hikes
By ZHAO YINAN in Beijing, YU RAN and SHI YINGYING in Shanghai | China Daily | Updated: 2013-04-24 02:04




The third draft of China's Tourism Law, which was delivered to lawmakers on Tuesday, seeks to curb price inflation at scenic spots — a trend that is making tourists nationwide unhappy.
The draft proposes strict controls on the costs of tickets to access natural scenery and ancient relics.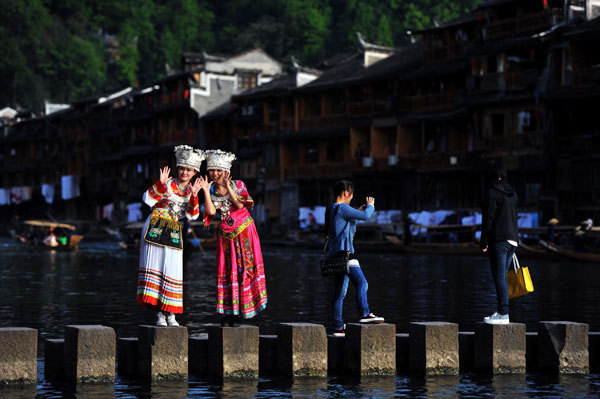 Tourists pose for photos in ethnic clothes in the scenic old town of Fenghuang, Hunan province. The town recently began to charge tourists an entrance fee, which sparked a huge debate and a protest from local vendors. [Zhao Zhongzhi / Xinhua]
Such areas, the draft said, should hold hearings before raising prices to solicit opinions from tourists and business owners on whether the charges are necessary and reasonable.
The draft law, which was discussed in August and December last year, is the country's first legislation covering the industry.
Li Fei, deputy director of the Law Committee of the National People's Congress, the top legislature, said the latest draft sets rigid procedures for raising prices as many members of the NPC Standing Committee said price appreciation has been "arbitrary".
The proposal was delivered after a high-profile price-raising dispute in Fenghuang, Hunan province, this month. The old town, known for its well-preserved architecture dating back to its founding more than 300 years ago, has started to collect an entry fee of 148 yuan ($24) from travelers. Entry used to be free.
The city government, which argued that the move was necessary to limit swarming tourists and to protect architecture, held no hearings before raising the price.