Net forex purchases for fourth month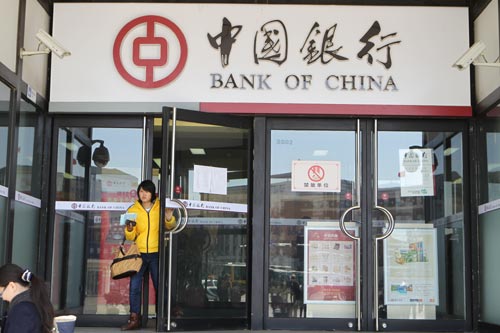 A Bank of China branch in Beijing. Banks brought in nearly 236.3 billion yuan ($38.25 billion) worth of foreign exchange in March on a net basis, boosting the total yuan holdings for purchasing foreign currency to nearly 27.1 trillion yuan. [Zhu Xingxin / for China Daily] 
Nation's RMB holdings for foreign currency hit 27.1 trillion yuan: PBOC
China witnessed a fourth straight month of net foreign exchange purchases among the central bank and commercial lenders, which suggests continuous capital inflows, as shown by data released by the People's Bank of China (PBOC) on Monday.
Banks brought in nearly 236.3 billion yuan ($38.25 billion) worth of foreign exchange last month on a net basis, boosting the total yuan holdings for purchasing foreign currency to nearly 27.1 trillion yuan.
Net purchases in March, however, moderated from 295.4 billion yuan in February and a record 683.7 billion yuan in January.
Banks made total net purchases of less than 500 billion yuan throughout 2012.
"The net purchase in March is not because of a trade surplus, it's mainly due to the increase of money inflows following the higher expectation of yuan appreciation," said Zhong Zhengsheng, an analyst at Everbright Securities Co Ltd.
March witnessed China's first trade deficit since February 2012, as imports surged by 14.1 percent from a year previously, according to data released by the Ministry of Commerce earlier this month.