Property prices rise in March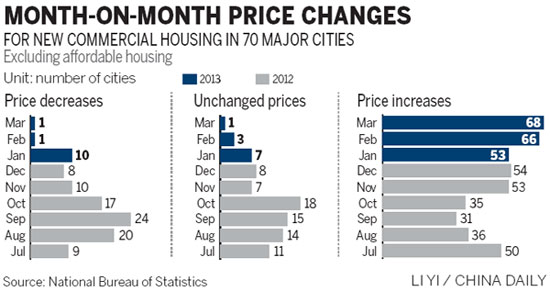 s
Almost all of China's major cities posted a robust monthly increase in property prices in March, despite the country's latest round of tightening measures.
Of the 70 major cities monitored by the National Bureau of Statistics, 68 saw new home prices rise month-on-month, compared with 66 in February, the bureau said on Thursday.
Wenzhou in Zhejiang province was the only city on the list to experience a price dip last month.
Key cities reported the biggest monthly increase, with Shanghai's 3.2 percent growth topping the list, followed by 2.8 percent in Shenzhen and 2.7 percent in Beijing.
The situation was virtually the same on a yearly basis, with 67 cities registering annual increases last month, up from 62 in February.
First-tier cities led the trend, with Beijing and Guangzhou recording the highest year-on-year increase of 11.2 percent.
"Expectations of higher home costs after the implementation of the government's latest measures contributed to a purchase rush in March, which prompted property developers to either cancel discounts or hike prices," said Liu Jianwei, a senior statistician with the bureau.
Moreover, March is traditionally a peak season for housing sales, adding to the market heat, Liu said, adding that prices are likely to stabilize in April as the government's latest round of tightening begins to kick in.
The central government said on March 1 that it plans to introduce a 20 percent capital gains tax and higher down payments and mortgage rates for second-home buyers in cities where prices are deemed to be rising too fast.
Major cities have unveiled detailed regulations following the introduction of the State Council's measures to cool the real estate market. In general, among detailed regulations released by local governments, with the exception of Beijing, the measures lack severity, clarity and enforceability.
"This also means that local governments are still leaving room for decision-making and flexibility in this round of property curbs while the central government has no intention of depressing all property markets with the use of 'one-size-fits-all' measures," said Frank Chen, executive director of CBRE Research.