Integrity vital for China's art auction market[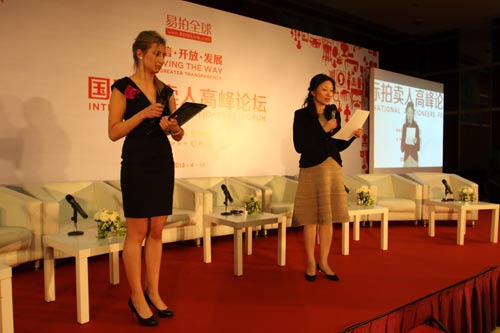 Jiang Qiqi (right) makes a speech on the International Auctioneers Forum on April 15, 2013, Beijing. [Provided to China Daily]
China's young art market needs to promote integrity to develop sustainably, said Jiang Qiqi, CEO of Epailive Auction Corp Ltd.
A total of 912 auction houses worldwide have published their auction news via Epailive.com, China's leading online art bidding portal.
Potential buyers from 98 countries have logged onto Epailive.com, which provides registered Chinese auction houses a wider platform, extending their presence beyond China, Jiang said at the International Auctioneers Forum on April 15 in Beijing.
However, compared with international auction houses which have developed for hundreds of years, China's auction market has a very short history of about 20 years and has encountered a lot of problems, such as a lack of integrity.
"It is even harder for potential buyers to trust an online bidding platform and auction companies on it as buyers can not even see the artworks and cannot even understand descriptions which are written in a foreign language," she said.
"However,it's amazing that Epailive.com has developed so fast," said Rebecca Li , the vice general manager of the company.
Epailive.com went on a trial operation in April 2011 and has since gained a total of 100,000 registered individuals, one tenth of them purchasing services from Epailive.com, Li said.
The highest online deal value so far is 4.9 million yuan. A buyer bid on Epailive.com for an antique china which was made in the Qing Dynasty (1644-1911) and put on auction by Altair Auctions & Appraisal.
To survive and develop, the start-up has worked hard to make people believe that the website is safe and reliable, said Li.