Private capital cited as 'desirable' in urbanization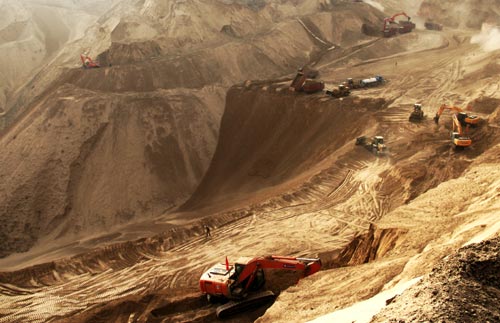 A project currently carried out by China Pacific Construction Group in Lanzhou, which will create 25 square kilometers of urban area by removing more than 700 hills. [Provided to China Daily]
Experts say alternative funding may help prevent the rapid expansion of local government debt
More local governments are turning to the private sector to help fund urbanization projects, as they face declining revenues amid slowing economic growth.
Experts said private investors could play a vital role in promoting China's urbanization, and could help prevent the rapid expansion of local government debt.
"Local government officials are approaching us on a daily basis seeking cooperation," said Yan Jiehe, chairman of China Pacific Construction Group, one of the largest private investors in domestic infrastructure construction.
"It is definitely a seller's market," he said.
China Pacific has been involved in more than 500 public projects nationwide via a "build-and-transfer" model, a form of project financing where a private entity receives a concession contract from the government to finance, design, construct and operate a public facility.
The private investor recovers their investment by payment in installments from the government from the operating income of the project.
China's new leadership has reiterated the role of urbanization in promoting growth, but it seems to be a tough assignment for cash-strapped local authorities due to limited financing channels.
Local fiscal revenue grew just 13.1 percent in the first quarter, down from 17.1 percent a year before.
In addition, the China Banking Regulatory Commission has called for the approval process for new local government loans to be made stricter.
"Loans are still a major source of funding for urbanization, but now banks won't neglect the potential risks simply because they are guaranteed by the government," said Wang Shuguang, a professor at Peking University's School of Esconomics.
In contrast, private investors are full of expectations and confidence about the opportunities posed by urbanization.