Increased scrutiny as investors diversify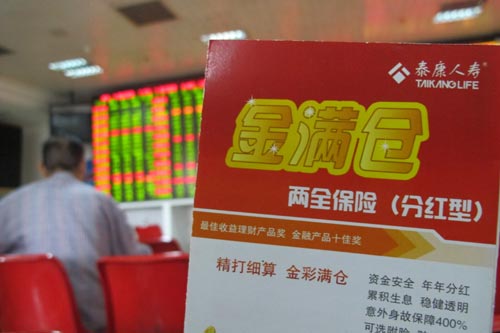 Compared with big State-owned banks, their medium-sized counterparts in China have a lower ability to pay their annualized returns although they are more aggressive in terms of selling wealth management products. [Provided to China Daily] 

WMPs still seen as the most effective hedge against inflation
Liu Zhixiang, a sales manager with a Shanghai-based wealth management company, said he and his company are having a hard time since the fourth quarter of 2012.
"February and March are usually our peak time for sales but 2013 is going to give us a famine," said Liu.
The company's major business is to promote trust and private venture fund products to clients. Its traditional channel is to sell through banks but, because regulators require banks to scrutinize wealth management products, Liu's company is losing a critical channel for sales.
Many third-party wealth management institutions, such as Liu's company, relied on the same sales channels, banks, in the past. Some have signed headquarter-to-headquarter contracts and are authorized while the rest work on providing incentives - mostly commissions - to staff at branches or sub-branches of banks, making it difficult for regulators to monitor the products or sales revenues.
Regulators have strengthened supervision of the fast-growing wealth management sector since late 2012, when one wealth product sold through Hua Xia Bank failed to pay its annualized return.
Hua Xia Bank is not alone in banks involved in scandals about outlawed issuance and sales of wealth management products. Analysts warn that if such risks are not overcome banks will get into more trouble in the future.
"For bank staff, commissions given by some issuers of unauthorized WMPs are a huge lure. They can be as much as three times a month's salary," said a source with a Shanghai-based bank who was once contacted by a trust product salesman outside the bank.
"The headquarters of banks have difficulty getting direct knowledge about who and what is involved in such off-balance activities at sub-branch level so State regulators may find it even harder. To regulate the staff at low-level branches, the only thing you can rely on is self-discipline," the source said.
At a media event at the sidelines of the Credit Suisse Asian Investment Conference in Hong Kong, Tao Dong, chief regional economist, non-Japan Asia at Credit Suisse, said the trust sector has just exceeded the insurance sector as the second-largest financial sub-sector in China.
According to a report by Credit Suisse, the bank estimates that in China trust funds, WMPs and other components of the sector had grown to nearly 23 trillion yuan ($3.7 trillion) - 44 percent of the nation's GDP - by the end of 2012.