Premier aims to build new partnership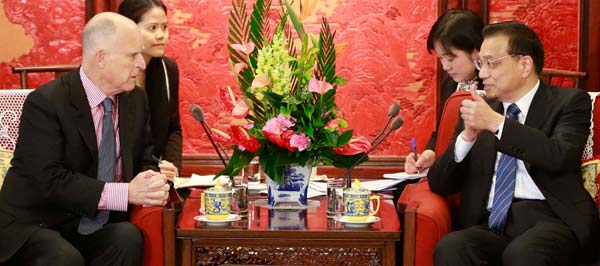 Premier Li Keqiang meets visiting California Governor Jerry Brown in Beijing on Thursday. FENG YONGBIN / CHINA DAILY 
Li stresses trade in meeting with California group
Premier Li Keqiang called on Thursday for China's local governments and states in the US to join hands in enhancing cooperation to help promote bilateral economic and trade relations and build a new type of partnership.
"China-US relations have entered into a new period, and the two nations should unremittingly strive for building up a new type of partnership by sticking to the principle of mutual trust and mutual benefit," said Li.
"Cooperation between China's provinces and municipalities and the American states acts as a significant drive and social foundation of China-US relations," he added.
He was speaking during a meeting with Jerry Brown, governor of California, who recently led a high-level delegation, including 75 American companies, to China to promote bilateral economic and trade ties.
Li's remarks also came a day after California and six Chinese provinces and municipalities, including Shanghai, Chongqing, Jiangsu and Shandong, signed an understanding to establish the China Provinces and US California Joint Working Group on Trade and Investment Cooperation. The understanding is aimed at enhancing economic cooperation between the two sides.
California, which has the largest economy among US states, should "strengthen cooperation with China in sectors of high-tech, new energy and humanity", setting a good example for cooperation between China's provinces and US states and paving the way for bilateral relations to develop in a "smooth and right" way, Li said.
China and the US, the world's top two economies, are each other's second-largest trade partner. In 2012, China-US trade reached $484.7 billion, close to 200 times the amount when the two nations first established diplomatic relations.
Cumulative US direct investment in China stood at $70 billion by the end of 2012, and China's cumulative outbound direct investment in the non-financial sector in the US reached $10 billion.
"During the past 40 years, China-US relations have witnessed remarkable achievements," said Li.