Policy loosening 'likely' to prompt economic growth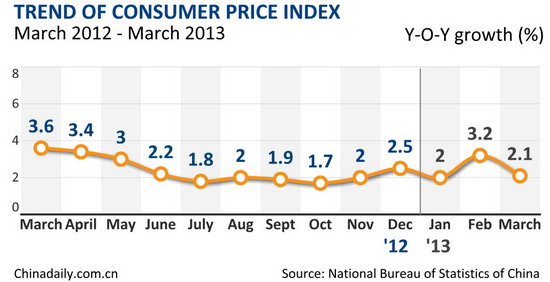 Policymakers may resort to slight monetary loosening in the second quarter to stimulate growth, economists said.
They made the prediction after newly released figures showed that the rate of inflation eased in March while industrial growth faced challenges.
The consumer price index, the major gauge of inflation, grew 2.1 percent in March from a year earlier, down from 3.2 percent in February, the National Bureau of Statistics said on Tuesday.
The latest figures pulled down the average CPI in the first three months to 2.4 percent, 1.1 percentage points lower than the government's annual target.
Food prices, which account for 30 percent of the CPI calculation, decreased 2.9 percent, the largest monthly fall since July 2003.
"The price of meat has dropped at least 10 percent since the dead pig incidents and the recent bird flu cases," said 50-year-old Shao Mingfang from Shanghai.
More than 10,000 pig carcasses were found last month floating in the Huangpu River, the major source of drinking water in Shanghai.
Lu Zhengwei, chief economist at the Industrial Bank, said consumer prices are likely to remain low in the second quarter because of sufficient market supplies.
The producer price index in March decreased 1.9 percent from a year earlier, the 13th consecutive drop, reflecting operational difficulties and pressure on profit growth in the industrial sector amid weak market demand.