Dangers of investing in US realty sector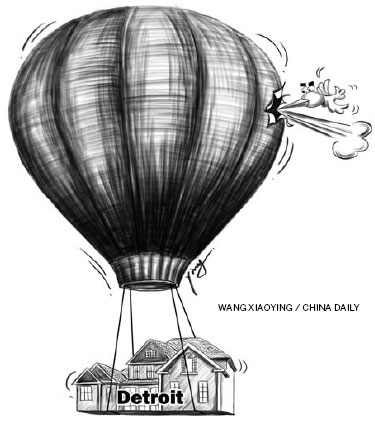 Chinese people have developed a new craze: real estate investment. The sale of "one-dollar villas" in the United States as a result of the subprime crisis a couple of years ago prompted some Chinese investors to go bargain hunting across the Pacific. Now Detroit, which is on the verge of bankruptcy, has lured Chinese "realty hunters" with its "low property prices".
But the enthusiastic comments and conjectures that online discussions have generated over the development are devoid of a real understanding of the situation. Even if the annual property tax charged by the US government is ignored, the socio-economic factors involved in such ventures make investing in real estate in Detroit a "no deal". The "rock bottom" price of property in Detroit could be the result of a cyclical crisis rather than the decay of its pillar industry. The crisis could also lead to social unrest, which would be anything but profitable for investors.
Some experts attribute Detroit's decline to its dependence on the automobile industry. But that is not totally true. During the height of the subprime crisis in 2008, when the US' three main automakers were on the edge of bankruptcy, Detroit managed to struggle through.
Ironically, now that General Motors, Ford and Chrysler are back in the black, Detroit is only a step away from bankruptcy. Chrysler registered a profit in 2011, and the operating revenues and profits of Ford and General Motors remain in double digits, with GM topping global auto sales. The US' economic recovery, credit easing and the need to change old vehicles for new have pushed overall auto sales by 13 percent and the industry's year-on-year growth in 2013 is expected to reach 7 percent. So, instead of regaining its strength, why should Detroit be on the verge of bankruptcy?
The real turning point for Detroit was "the largest-scale domestic riot since the Civil War" - in July 23, 1967 - when riots rocked 114 cities in 32 US states and forced Lyndon Johnson, then US president, to send 5,000 troops to control the situation. Forty-three people were killed, thousands were injured and 7,200 arrested. The riots forced middle-class whites to flee the city, causing a sharp drop in the urban white population and increase in the number of black residents. The decline in the service sector, as a result of riots and migration, drew youths to crime and substantially raised the city's crime rate slowly turning it into a "ghost city" or "crime city".
Worse, because of the US' reluctance to admit, and therefore deal with, racial problems, some towns and communities in Detroit with majority black population have lost the capability of solving their socio-economic problems. Some unscrupulous local politicians, and corrupt black elites, have overtly or covertly used the race factor to their advantage, making the problem even more difficult to solve.