Unlicensed helpers lending a hand
High cost of trained nurses makes hospitals turn to nonprofessionals, Peng Yining reports from Beijing and Chongqing.
Taking care of hospital patients doesn't appear to present much of a challenge to Dai Chang, a 50-year-old father of two and former farmer. For the most part, his work - giving sponge baths, reminding patients to take their medicine and informing the nurses when an intravenous drip needs replacing - doesn't require any professional skills.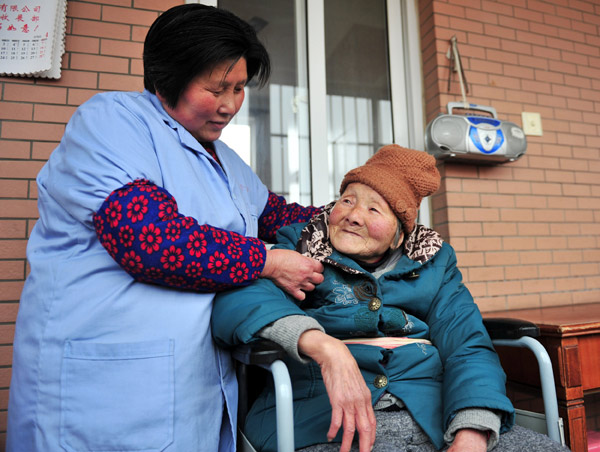 A nursing assistant takes care of a resident at a home for the elderly in Chaohu city, Anhui province. [Provided to China Daily]
However, most observers would be surprised, or even appalled, to see Dai spit on a handkerchief before using it to wipe leftover food from the chest of a patient who had just undergone a coronary bypass and needed to be protected from infection.
Dai has never spent time at nursing school, neither has he undergone any medical training, and he holds no qualifications, but he has taken care of more than 100 patients in his three years as a nursing assistant at a public hospital in the southwestern municipality of Chongqing.
Unqualified, unlicensed nursing assistants, or hugong, "patient care workers" in Chinese, work in most major hospitals in China as a result of a scarcity of nursing resources. Most are migrant workers with no medical background. As such, they cost little to employ and for those people without the time and/or money to take care of sick family members, hiring a hugong is their best option.
Lang Xuelin, 41, makes 100 yuan ($16) a day looking after patients 24/7 at another hospital in Chongqing, although 15 yuan of that sum is paid as commission to the agency that introduced him to the hospital and his employers. Once he's paid for his food and cigarettes, Lang's profit is more than 70 yuan a day, or 2,000 yuan a month. That's far higher than the income he earned as a rice farmer in a village 180 km from the municipality, but about equal to his salary at a factory in Guangdong province several years ago.
"But Guangdong is too far away," he said. "I prefer to work closer to my home and stay with my family. I am getting old. Working in a factory or on construction sites would be difficult for me," he said. "Nursing doesn't require any skills. I just watch the nurses and other workers and learn. It's easy money if you don't have a problem washing urine bowls and changing sheets stained with faeces."
Lang's wife, also a patient care worker at the same hospital, takes care of an 89-year-old patient with Alzheimer's disease.