Bird flu fears see stocks hit lowest level in 2013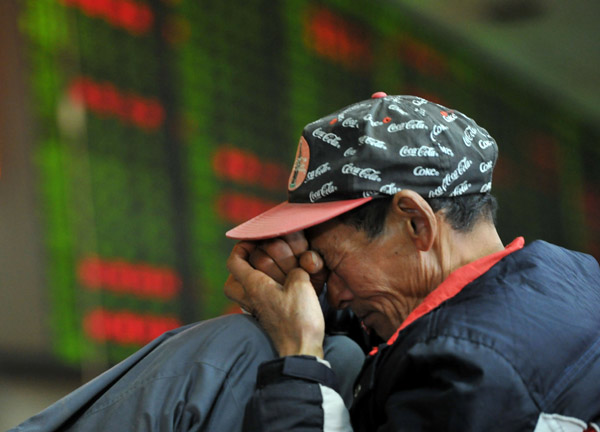 A man at a brokerage in Nanjing, Jiangsu province. The Shanghai Composite Index closed at 2,211.59 on Monday, down by 0.62 percent. [Liu Yifan / For China Daily] 
Despite a late-afternoon rally, Chinese stocks slumped to their lowest level in 2013 on Monday, with sectors such as aviation and hospitality hit hardest by the bird flu scare.
The market opened after the three-day holiday break down 1.31 percent on the previous close. Prices stabilized somewhat after the lunch break, with the Shanghai Composite Index closing at 2,211.59, down 0.62 percent from 2,225.30 on the last trading day before the holiday. Daily turnover reached 73.7 billion yuan ($11.9 billion), up from 68.8 billion yuan previously.
Li Xin, an analyst with Changjiang Securities, said: "Currently, there is no effective way to curb the spread of new H7N9 bird flu. Some investors are worried it may lead to disasters like the SARS epidemic. Thus, it is natural that shares in the tourism and aviation industries fall. The index may fall even further if more economic data turn out to be discouraging.
Xun Yugen, an analyst with Haitong Securities, said it still takes time to evaluate the effect of bird flu.
In the 2003 SARS outbreak, sectors including retail, aviation, hospitality, farming, forestry, husbandry and fisheries saw the biggest drop. Pharmaceutical stocks rose in the early stages of the outbreak, but did not maintain strong growth in the middle and latter stages.
Analysts said they believe that weaker-than-expected growth indicators have also contributed to the depressed market.
China's official manufacturing Purchasing Managers' Index rose to an 11-month high of 50.9 in March, according to the National Bureau of Statistics.
Although it is above the 50-point level that indicates growth, it missed expectations. Analysts said this indicates the economic rebound remains fragile, with unsteady foreign demand for Chinese exports remaining a constraint.