Jitters hit market as bird flu fears spread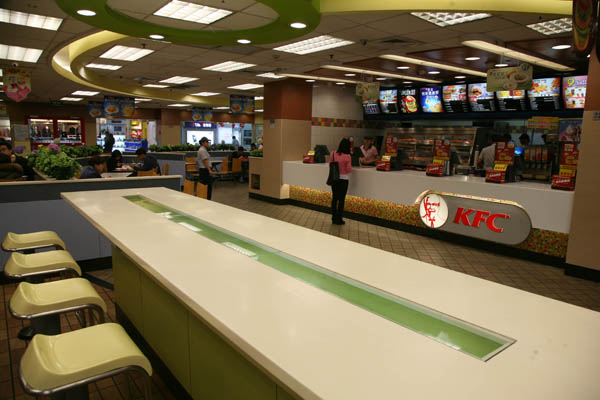 A KFC restaurant in Hangzhou, Zhejiang province. With rising fears over the H7N9 bird flu outbreak, the number of customers at restaurants specializing in chicken has dropped sharply. [Li Chenyun / China News Service]
Worries over the spread of bird flu in China - despite World Health Organization insistence there is no evidence it could be spreading among humans - caused market jitters among livestock, hotel and catering, airline and tourism stocks on Monday.
The Shanghai Composite Index dropped 0.62 percent to close at 2,211.59 points.
Four livestock-related stocks dropped by their daily limit of 10 percent, Shanghai Jin Jiang International Hotels (Group) Co Ltd fell 5.21 percent, while restaurant group China Quanjude Group, which is listed on the Shenzhen bourse, slipped by 4.62 percent.
Some restaurants in Hangzhou have temporarily stopped serving pigeon in the wake of H7N9 virus being found in a pigeon sample in Shanghai.
Concerned that poultry might be high risk, Zhang Sheng Ji Restaurant said it stopped serving roast pigeon from April 4 in all five of its stores in Hangzhou.
Roost Restaurant in Shangcheng district stopped serving its specialty roasted pigeon on Monday as orders fell. The Tang Palace Seafood Restaurant in Jianggan district of Hangzhou also said it had stopped serving the dish for the same reason.
Xiao Nan Guo Restaurant Holdings Ltd said it would stop serving three cold dishes made of chicken in its chain stores for a week, largely due to Shanghai closing its poultry markets.
"We will use chicken from Guangdong for those cold dishes, and for our soup dishes, we have been using chicken from Northeast China," said media manager Huang Wei, adding that the group planned to follow government guidelines, as it is a Hong Kong-listed company.
China Eastern Airlines also saw its stock price drop by 3.23 percent on Monday.