Logistics provides solid industry backing
Logistics industry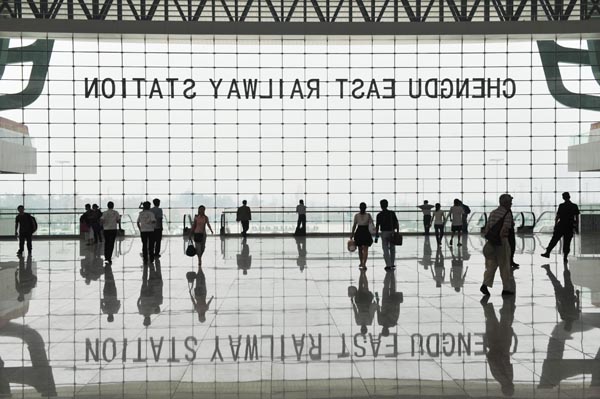 Chengdu East Railway Station is part of the improved infrastructures in the southwestern city. [Photo / China Daily] 
In 2011, added value in Chengdu's logistics industry reached 38.3 billion yuan ($6.17 billion). The logistics fee to GDP ratio, a gauge of logistics efficiency, was 16.38 percent, well below the national average of 18 percent.
Zhang said regarding transportation and logistics merely as an industry is narrow minded. Because of its significant externality, the development of the industry could leverage other industries with a value much greater than its own. In this regard, it is important to develop it as a strategic industry for the whole economy.
Chengdu's various industries can attribute their rapid growth in recent years to the improved infrastructure and logistics environment.
In 2010, when Compal Electronics Inc, one of the world's largest computer manufacturers was considering moving to Chengdu, they queried if Chengdu's logistics system could support its gigantic export demand. Zhang and his colleagues produced a pamphlet detailing the logistics cost of the city's railway, road and airport transportation, allowing Compal to make a logistics cost assessment. Compal was satisfied with the conditions and decided to move in.
The arrival of Compal brought more than 50 suppliers to Chengdu.
"During the discussion with Compal and Foxconn (in terms of settlement), I strongly felt that only if we can prepare enough room for the development of logistics beforehand, could we take the lead in grasping the growth opportunities for our industries," Zhang said.
Another example is the iPad. Two-thirds of the world's iPads come from Foxconn's Chengdu plant. All of these iPads are transported to every corner of the world through Chengdu's airport. In 2012, the city's added value in the IT industry hit 58.27 billion yuan, the largest among all industries. This would be unimaginable without the city's air handling capacity.
Looking ahead, Zhang said though the city's infrastructure and logistics can satisfy its industrial demand as a whole, there is still room for improvement in terms of efficiency. By 2015, both the quantity and quality of the city's logistics will be enhanced and lay a solid cornerstone for the city's industries.
Contact the writers at zhengyangpeng@chinadaily.com.cn and liyu@chinadaily.com.cn