Food for thought in the retail business
The concept of a "convenience" store jars with 55-year-old retired doctor Xu Zeng ever since her nearest one, just downstairs from her apartment in Liwan district of Guangzhou, closed.
Xu now has to walk for at least 20 minutes every morning to get a bottle of hot milk or steamed stuffed buns for breakfast.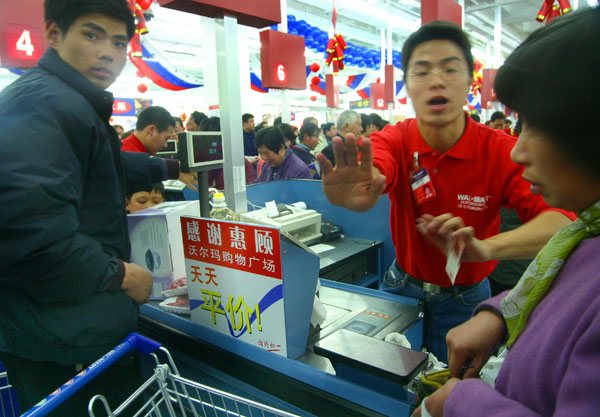 An employee of Wal-Mart Stores Inc asking a man not to take a photo at a Wal-Mart outlet in Nanjing, capital city of East China's Jiangsu province. Wal-Mart said in March that it will close two stores in April after a business appraisal. One is in Wuxi city and the other is in the city where it has its China headquarters — Shenzhen. [Photo/China Daily]
"Store closures are common here. There is always a shop closing while another opens," said Xu with a shrug.
When she worries about her long daily walk, many foreign retailers are worrying about their business performance in the country.
Last year, the world's largest convenience store retailer, 7-Eleven, confirmed store closures in Guangzhou, capital city of South China's Guangdong province, saying it was part of a business adjustment.
Even the world's largest retail giant by sales, Wal-Mart Stores Inc, said in March that it will close two stores in April after a business appraisal. One is in Wuxi city and the other is in the city where it has its China headquarters — Shenzhen.
In September last year, Home Depot Inc closed all seven of its remaining stores in China after years of financial losses, while Best Buy Co closed its nine outlets in the country in early 2011, after having discovered that their Western business models don't work well in an oriental culture.
In addition to store closures, foreign retailers have slowed down their expansion in the country.
Wal-Mart said it plans to open around 33 stores a year. In past years the figure was around 50.
According to Kantar Worldpanel, a London-based consumer research company, two leading retail groups, the Sun Art Retail Group and Wal-Mart, both experienced declining market share in the last quarter of 2012, with Wal-Mart seeing the most significant drop. Wal-Mart's weaker performance was driven by fewer shoppers visiting the store rather than shoppers spending less with the retailer.
"Store closures were part of the company's business adjustment, which was caused by the poor efficiency of the outlets," said a spokeswoman at 7-Eleven Shanghai.
"Store location, company strategy, business performance and other considerations combine to create a decisive factor regarding the adjustment of stores," Li Ling, senior director of public relations at Wal-Mart China, was quoted by China Business News as saying.
Industry experts said because of severe competition, store closures are common for retailers. Some may need to upgrade or die according to the company's expansion strategies and the country's gloomy economy.
Last year, China's economic expansion slowed to 7.8 percent year-on-year amid external jitters and domestic woes. Last year's figure was the slowest year of growth for China since 1999 and was down from 9.3 percent in 2011 and 10.4 percent in 2010, according to the National Bureau of Statistics.
Following the application of the economic brake, the Chinese retail industry stumbled through the year. Data from the China Chain Store & Franchise Association reveals that total sales of the top 100 large retail chains in China increased more than 20 percent year-on-year to 1.65 trillion yuan ($265 billion) in 2011, and last year's sales growth continued to decline although the figures are not available so far. The total sales in 2010 were 1.66 trillion yuan, a year-on-year increase of 21.2 percent.
Department store sales also reflected the decline in the Chinese retail industry.
Shin Kong Place, which topped sales among department stores in 2011, achieved total sales revenue of 7.3 billion yuan in 2012 with a year-on-year growth rate of 12.3 percent. In comparison, it experienced rapid sales growth from 2009 to 2011 at a rate of 30 percent.