COSCO suspended after loss of 9.56b yuan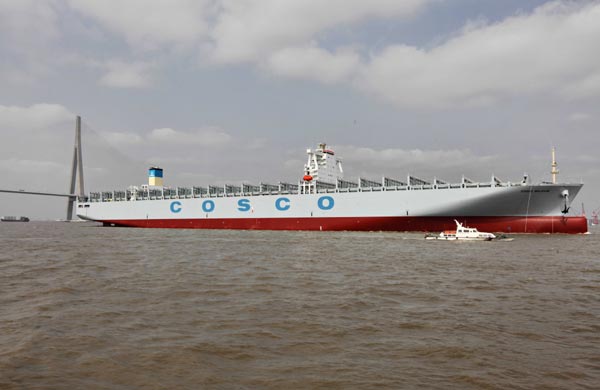 China COSCO Holdings Co's two consecutive years of losses put the company on a "special treatment" list. Losses in the dry-bulk sector widened a dramatic 64 percent from a year ago to 4.5 billion yuan. [Photo/China Daily]
Three years of deficits could see the shipping firm removed from market
Shares in China COSCO Holdings Co, the Shanghai-listed arm of the largest State-owned shipping conglomerate China Ocean Shipping (Group) Company, were suspended on Thursday after it reported one of the market's biggest losses for 2012.
The company's sales rose 4.6 percent from a year earlier to 72.06 billion yuan ($11.6 billion) in 2012, but annual net losses hit 9.56 billion yuan for the year, following on from a loss of 10.5 billion yuan the year before, it said in a filing with the Shanghai Stock Exchange.
The two consecutive years of losses have now put the company on a "special treatment" list, which limits daily trading movements to 5 percent, compared with the standard 10 percent. Three years of losses could result in it being removed from the exchange.
Profits in its container shipping business surged by 107 percent year-on-year to 244 million yuan last year, compared with the previous year's loss of 3.7 billion yuan.
COSCO's logistics, port operation and container leasing businesses all registered steady growth, according to its financial statement.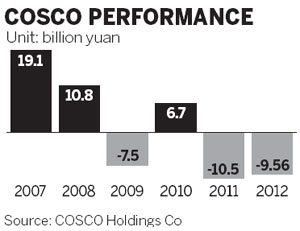 Losses in the dry-bulk sector, however, widened a dramatic 64 percent from a year ago to 4.5 billion yuan, the largest of all its business divisions and the main cause of its huge annual overall loss, it said.
The company blamed the loss on the downturn in the dry-bulk market in 2012, which it said was caused by the sluggish world economic recovery, rising oil price and an excessive supply of vessels in the market.
The three factors had seriously depressed shipping rates, affecting the company's profitability, it added.
The Baltic Dry Index, a measure of shipping rates for bulk goods such as iron ore, coal and grain, dropped by 41 percent from an average of 1,549 in 2011 to 920 in 2012, registering one of the lowest readings since the index was established.
COSCO controls the largest dry-bulk carrier fleet in the world. In an attempt to adjust its fleet structure and reduce its losses in the sector, it reduced the number of rented dry-bulk vessels by 21 percent in 2012 from the year before.
Its current fleet stands at 332 vessels, with 217 owned by the company and 115 rented from ship owners. The company said it remains cautious about the market in 2013.
Growth of new vessels in both the container and dry-bulk sector is expected to slow this year, which in turn should improve the market conditions, it added.
"But overall oversupply in the dry-bulk sector is unlikely to be digested in the near term," said Jiang Lijun, the company's president and executive director.
zhousiyu@chinadaily.com.cn