Insurers expect better fortunes in 2013, after tough 12 months
Six leading players report combined net profits of $7.51 billion in 2012, a 22 percent drop from 2011
Despite a plunge in 2012 net profits, China's major insurance companies say they expect a more prosperous 2013, thanks to the relaxation of rules making it easier for them to raise new funds and expand into investment businesses.
In the past two weeks, six of China's largest insurers listed in Shanghai and Hong Kong have released annual figures for 2012, showing combined net profits of 46.7 billion yuan ($7.51 billion), a 22 percent drop on 2011.
The six are Ping An Insurance (Group) Co Ltd, China Life Insurance (Group) Co, People's Insurance Company (Group) of China Limited, China Pacific Insurance (Group) Co Ltd, New China Life Insurance Co Ltd and China Pacific Insurance (Group) Co Ltd.
Of the group, Hong Kong-listed PICC was the only one to post double-digit growth in annual net profits, to 10.1 billion yuan, a 28.5 percent increase.
The slowdown in profit growth by the others was blamed on shrinking income from life insurance premiums due to fierce competition, comparatively lower investment returns, and an imminent peak in maturing policies and other payouts, according to Xiang Junbo, chairman of the China Insurance Regulatory Commission.
Kang Dian, the chairman of New China Life, the country's third-largest life insurer by market share, said he had thought the bancassurance market might make a full recovery by mid-2012, but now considers that forecast too optimistic.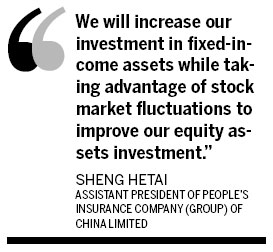 NCL's bancassurance premium income dropped 8 percent year-on-year in 2012.
Sheng Hetai, the assistant president of PICC, said the company will take a more conservative investment approach this year.
"We will increase our investment in fixed-income assets while taking advantage of stock market fluctuations to improve our equity assets investment. We will also strengthen our investment into private equity projects," said Sheng.
The regulatory authorities have noticed the problems faced by China's biggest insurers.
Analysts said that an easier fundraising environment in 2013 may help improve solvency levels and long-term liquidity, as will any expansion of investment channels by the regulators, who have already sensed the difficulties being felt in the insurance sector.
The China Securities Regulator Commission has already approved Ping An Insurance's applications for raising funds via convertible bonds, the insurer said on Thursday.
Ping An said in December 2011 that it will issue up to 26 billion yuan in convertible bonds to be traded in the A-share market in a bid to boost its solvency ratio, supplement capital operations, and support other business approved by the regulation.
"The approval for Ping An's convertible bonds issuance is the first for insurers listed on the A-share market, and is a signal that regulators are encouraging financial innovation by insurers, and trying to boost capital market growth amid the steady development of the entire financial services market," said Li Lei, analyst with Aijian Securities Co Ltd.
Expanding investment channels will also help insurers gain more yields in 2013, said Li.
New China Life is expected to strengthen its overseas, private equity and real estate investments this year.
"We've got approval from the China Insurance Regulatory Commission to set up an asset management company in Hong Kong, which will better promote our overseas investment this year," said Kang.
Liu Jiade, vice-president of China Life, said the insurer hopes to seize structural opportunities in the A-share market in 2013.
Contact the writers at huyuanyuan@chinadaily.com.cn and wuyiyao@chinadaily.com.cn