Kingsoft commercializes cloud storage services
China's earliest software developer, Kingsoft Co Ltd, has entered the cloud computing market with its paid cloud storage services, CEO Zhang Hongjiang announced Wednesday.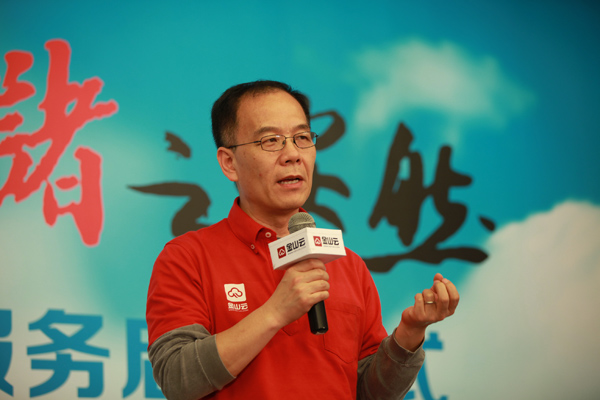 Zhang Hongjiang, CEO of Kingsoft Co Ltd, made a speech on the opening ceremony of its cloud storage services on March 27, 2012 [Provided to chinadaily.com.cn]
Kingsoft Cloud Group, a subsidiary that the company set up in 2012 as a strategic move, rolled out Kingsoft Kuaipan Commercial and Kingsoft Cloud Platform Wednesday.
The Kingsoft Kuaipan Commercial, a cloud-based storage application, will allow small and medium-sized enterprises to store and share documents on multiple platforms including Windows, OS X, Android and iOS, and will cost at least 125 yuan each month, Yang Gang, CTO of Kingsoft Cloud, said.
The Kingsoft Cloud Platform is for larger companies and application developers. Zhang said there should be enough users and enough technologies to support such a platform.
TV manufacturer, Skyworth Digital Holdings Ltd, and smartphone maker, Xiaomi Tech, have both been cooperating with Kingsoft Cloud to provide cloud storage to TV and mobile phone users, said Zhang, acting also as the CEO of Kingsoft Cloud. The number of business partners may extend to five to six this year, he added.
Kingsoft set up a cloud computing laboratory as early as 2007 and rolled out the free cloud storage service, Kuaipan Individual, in 2011. Kuaipan Individual has acquired more than 40 million users, some of whom are owners of micro businesses, said Zhang.
"We need to provide new storage room and bandwidth to every new user of Kuaipan Individual," Zhang said.
Zhang said a lot of companies have rushed into the cloud-computing sector but some have already been wiped out partly because many failed to realize that the marginal cost of cloud storage service does not decrease, unlike some Internet services which can be duplicated at no cost.
Kingsoft stripped off Kuaipan and set up Kingsoft Cloud on its foundations, viewing the subsidiary as a start-up company.
As a start-up company, Kingsoft's top challenge is to learn how to control costs and raise funds.
Kingsoft Could gained $1.82 million yuan by selling 9.87 percent of its shares to Xiaomi Tech last year.
Zhang said the company will raise more funds in the near future but did not elaborate on the issue.
songjingli@chinadaily.com.cn