Sinopec to pay $1.5b for parent's oil, gas assets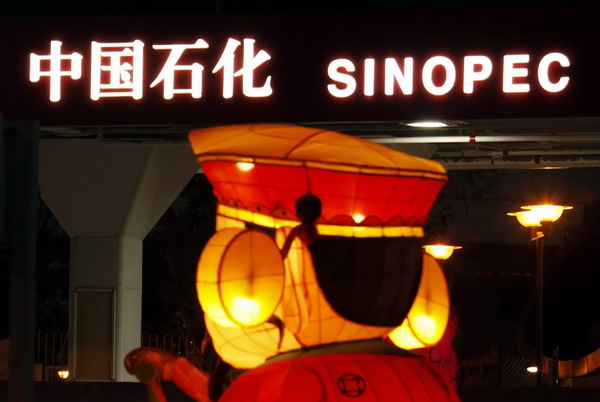 File picture shows a Chinese New Year lantern installation on display outside a Sinopec gas station in Hong Kong. [Photo / Agencies]
China Petroleum and Chemical Corp, or Sinopec Corp - Asia's largest refiner, will pay $1.5 billion for overseas oil and gas-producing assets held by its parent in a long-awaited move to reshape its business and improve earnings.
Shares of Sinopec jumped more than 3 percent in early Hong Kong trade in reaction to the plan announced on Sunday, outperforming a 0.7 percent gain in the blue-chip Hang Seng Index.
"The announcement... is the first step toward restructuring the business toward the upstream which is likely to see a gradual improvement in returns and potentially significant value upside in the long term," Scott Darling, head of Asia oil and gas research at Barclays Capital, wrote in a note.
Sinopec Corp has lagged behind bigger domestic energy producer PetroChina Co Ltd in acquiring overseas fields to offset refining losses, having made its first and so far only purchase of upstream assets in 2010.
Chinese refiners cannot fully pass on higher crude oil costs to customers because of government price controls.
Sinopec Corp said a year ago that it was considering buying more overseas upstream assets from its parent Sinopec Group to boost oil and gas production and counter losses.
Sinopec Corp - which relies on imports for most of the crude it refines - said late on Sunday it would set up a joint venture with its parent that will acquire $3 billion worth of oil and gas assets held by the latter.
The deal would boost Sinopec's proven reserves by 9.1 percent to 3.1 billion barrels of oil equivalent (boe), and its annual crude production would rise 11.2 percent to 365 million barrels, the company said.
The 50/50 venture will buy oil and gas-producing assets with 310 million barrels in proven and probable reserves from Sinopec Group, formally known as China Petrochemical Corp.
Sinopec Corp, whose oil and gas output reached 427.95 million barrels in 2012, will use internal funds and loans for its share of the venture. It said it would take management control.