Fiscal caution as focus put on budget balance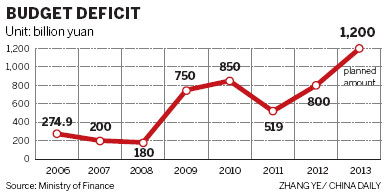 Greater prudence in spending and a better budget balance are the goals set by newly appointed cabinet officials at a major economic conference on Sunday.
Despite rapid revenue growth, the budget deficit will, as planned, reach 1.2 trillion yuan ($193.2 billion) in 2013. This marks a 50 percent increase from the previous year.
Vice-Premier Zhang Gaoli, addressing the China Development Forum, said the key was to spend wisely and not just let the government expand its share of the national coffers.
Finance Minster Lou Jiwei said that China would regain budgetary balance in a few years - as external conditions improve and the government's domestic expenditures are better regulated.
"We should establish a strong and balanced fiscal system, but our deficit level is relatively large at the moment," Lou said.
He did not give a timetable for cutting the deficit. Nor did he specify how much of a deficit, if any, would be tolerated.
But the message was important, observers said, as this was the first public speech by Lou since he assumed office.
China's planned deficit level for 2013 is equal to 2 percent of GDP.
From a total of 1.2 trillion yuan, 350 billion yuan will be raised via issuance of local government debt. Lou explained the rise in the deficit was an answer to the negative global business environment, and also as a result of the rapid expansion of domestic public spending.
Public expenditure jumped 15.7 percent year-on-year in the first two months, more than double the rate of the 7.2 percent increase in government income, which is predicted to expand in the single digits in the foreseeable future.
Premier Li Keqiang vowed to cut spending, although he also said the government cannot renege on its commitment to improve general well-being over the long run.
Vice-Premier Zhang said fiscal expenditure will not be used on redundant projects and overcapacity.
According to Zhu Min, deputy managing director of the International Monetary Fund, China's capacity utilization rate was down from 90 percent to 60 percent, and overcapacity has become a major threat to the country's position on the global value chain.
Facing the challenges, Lou said fiscal expenditure must have a "bottom line", and priorities must be given to what is important, as too many commitments will strain revenue and "lead us to a dead end".
Lou said the low price of energy in China was a major reason for energy waste.
Carbon tax levies could come under consideration, he said.
He also said many of the policies on improving the standard of living lacked prerequisites.
"We should help the poor, but not the lazy," he said.
Meanwhile, the former head of China's wealth fund did not agree with the idea of using the country's $3 trillion foreign exchange reserve to compensate social security, as it was "too risky".
"If the loopholes in the social security system are not closed, there will never be too much money to be wasted," he pointed out.
Lou said he was heading an investigation on the 11-trillion-yuan local government debt to separate hidden debts from those on the balance sheet.
In addition, he said, a larger proportion of profits of the State-owned enterprises will be collected.
"Hopefully, when these efforts are made and the external environment improves, we can return to a fiscal balance," Lou said.
Lou's views were echoed by Martin Wolf, chief economic commentator for the Financial Times, who said "the low growth rate and high deficit level which the United States and Europe are currently undergoing may not be the recipe for China".
Angel Gurria, secretary-general of the Organization for Economic Cooperation and Development, said the major challenge for any fiscal reform is lack of revenue, but China has been doing well considering the relatively low debt-to-GDP ratio and fiscal deficit level.
In order to gain more fiscal revenue, the first step for China to take should be to broaden its tax base, according to Stephen Groff, vice-president of the Asian Development Bank.
In addition, direct tax items, such as capital gains, property, inheritance, and an environment tax, should play a bigger role in easing the pressure of falling revenue, he said.
Gurria estimated the real burden for Chinese taxpayers was 29 percent of their income. The level has been growing annually 0.5 percentage points over the past five years, he said.
weitian@chinadaily.com.cn