Internet row as city lights are turned off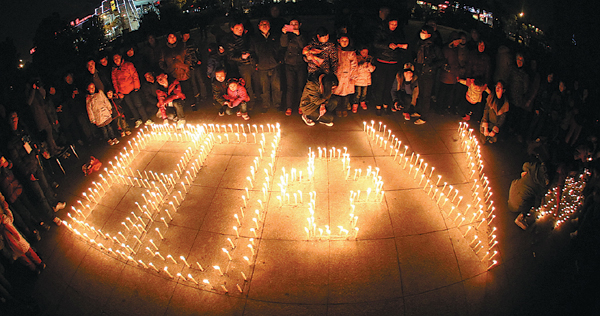 College students and residents in Nantong, in Jiangsu province, lit candles in the shape of "60+v" on Saturday night to mark Earth Hour. 60+v signifies a global effort by the World Wide Fund for Nature to save 60 tons of carbon dioxide by darkening cities for one hour. Xu Congjun / for China Daily
Debate rages over whether Earth Hour actually saves energy
Landmarks in more than 120 Chinese cities fell into darkness on Saturday night as part of the 7,000-plus cities participating in Earth Hour this year.
Earth Hour is a global event organized by the World Wide Fund for Nature to encourage homes and businesses to turn off non-essential lights for an hour to raise awareness of the need to take action on climate change.
However, this year some Chinese raised concerns on the Internet that the sudden blackout would cause interruptions to the power grid.
On Saturday morning, an Internet user under the name Zhangsan Dedi posted two messages on Sina Weibo, a Chinese micro-blogging website, that said people shutting down their lights are foolishly following the crowd because the power saved from lights cannot be stored and the massive outage may influence the power grid load.
The Internet user said he or she works for the power grid and knows how it works.
The two messages were forwarded more than 67,000 times, triggering debate on the Internet about whether the Earth Hour would cause an interruption to the power grid.
On Sunday, Changjiang Daily in Wuhan quoted WWF project officer Lei Gang saying that turning off lights would not harm the power grid.
Lei said Earth Hour only cuts the power for lights without turning off illuminations such as street lamps.
Illuminating electricity only accounts for 12 percent of China's total electricity consumption, Lei said, adding that not every building turned off its lights so the participating number is rather limited and not powerful enough to have an effect on the grid.
In Nanjing, media reported that the power supply load for the entire city was 4.85 million kilowatt-hours at 8:30 pm, when Earth Hour started, but the load increased to 4.9 million kWh 10 minutes later, which means turning off public building illuminations did not help reduce the consumption of electricity at all.
"In every city there is more than one power plant producing the electricity needed and there is a power dispatching system to monitor supply and consumption of different regions," said Zhang Shun, a deputy dispatcher in a power plant in the Inner Mongolia autonomous region.
"For example, during the 2008 Olympic Regatta in Qingdao, the power supply was first guaranteed in the Olympic venues so the monitors cut off electricity in some other regions intentionally," he said. "During that time some regions were blacked out every night from 8 to 10 pm."
As a result, Zhang said turning off lights would neither help save electricity - because electricity is dispatched and used elsewhere - nor have an influence on the grid.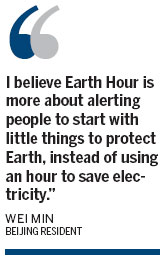 "I believe Earth Hour is more about alerting people to start with little things to protect Earth, instead of using an hour to save electricity," said Wei Min, 29, from Beijing who witnessed the outage on Saturday night.
"For example, I turn off my lights and air conditioner when I find it unnecessary to keep them on. If everybody did this every day, it would help to improve our living environment," she said.
WWF China had not commented on the Internet discussion as of Sunday.
In China, landmarks that shut down their illumination between 8:30 pm and 9:30 pm this year included the Bird's Nest stadium and the Water Cube in Beijing, the Oriental Pearl TV Tower in Shanghai and the Yellow Crane Tower in Wuhan.
The number of cities that took part in the campaign was 127. Last year the number was 124.
The lights went out in homes and businesses in more than 6,950 cities and towns worldwide last year. This year the number rose to more than 7,000 cities in more than 150 countries and regions, with Palestinian territories, French Guyana, St Helena and Rwanda joining the movement for the first time.
Chengyingqi@chinadaily.com.cn