Minister focuses on expanding foreign trade
Commerce chief confident despite pressure on export environment
The new commerce minister expressed confidence on Thursday that China will boost foreign trade in 2013 despite pressure on exports.
Trade growth will be "no less than GDP growth," promised Gao Hucheng, who was promoted from vice-minister on Sunday.
China will also strive to achieve 14.5 percent growth in domestic retail volume this year, Gao said.
At the National People's Congress annual session, a GDP growth target of 7.5 percent was set for 2013.
Owing to "global uncertainties," the premier's Government Work Report did not specify an annual goal for foreign trade, although the National Development and Reform Commission, the top economic planning body, outlined 8 percent growth for trade in a separate report to the national legislature.
According to the National Bureau of Statistics, China's retail volume was 21 trillion yuan ($3.3 trillion) in 2012, up by 14.3 percent from 2011.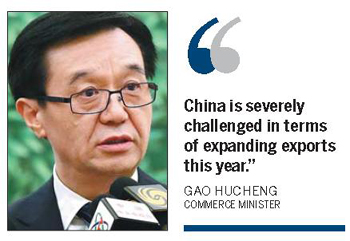 Gao also said the nation is committed to stimulating domestic consumption this year and will also stick to the "opening-up policy", welcoming foreign direct investment in high-tech and research sectors.
Gao made the remarks in an interview after meeting with Pascal Lamy, director-general of the World Trade Organization on Thursday in Beijing.
China passed Germany as the second-largest exporter in 2009, and it overtook the US as the largest foreign trade nation last year.
But due to the spreading European debt crisis, which dampened global demand for Chinese goods, China missed the target of 10 percent growth in foreign trade.
Looking ahead, "China is severely challenged in terms of expanding exports this year. There are many uncertainties with the nation's foreign trade," Gao said.
"This year's target will be stabilizing external demand, improving the quality of manufacturing and adjusting the industrial structure," he said.
Related Readings
China maintains reasonable trade surplus

China's foreign trade recovers further

US says trade talks are ajar for China

China urged to focus its trade on Europe