Foreign nuclear deals 'on way'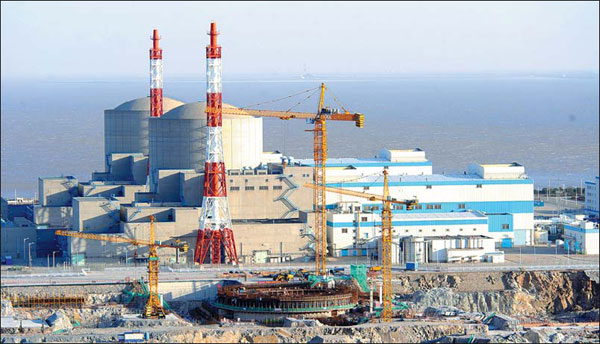 The construction site of the Tianwan Nuclear Power Plant in Lianyungang, Jiangsu province. China's nuclear plant construction, after a 20-month halt due to the Fukushima Daiichi disaster in Japan, gradually resumed by the second half of last year. [Photo/China Daily]
First overseas orders for China's technology likely to be signed later this year
Officials behind China's self-developed nuclear reactor, known as the ACP1000, expect to sign its first overseas orders for the technology this year, most likely from South America or Asia.
Sun Qin, the chairman of China National Nuclear Corp told China Daily in an exclusive interview, that the deals could seal should the construction of a ACP1000 reactor in China begin by the end of this year, after approval from the State Council.
Sun added the reactor has been approved by China's security inspector, a detailed construction schedule is now under way, and a construction site has been finalized at Fuqing in Fujian province.
He refused to disclose which nations are negotiating to buy a reactor.
Most developing countries with nuclear energy ambitions have limited resources available at present, he added.
But he said countries had found it attractive to talk to CNNC because of the favorable and unconditional credit conditions they have been offered to buy the Chinese technology.
Feng Xiangzhao, a researcher at the Policy Research Center for Environment and Economy, which is attached to the Ministry of Environmental Protection, said if China could manage to export its nuclear technology, it could help make a huge contribution to global carbon reduction.
"Many developing nations could benefit from this and reduce their carbon emissions. This could also diversify their energy mix," Feng said.
Sun said China's nuclear power station construction would continue to develop at a stable pace during the 12th Five-Year Plan (2011-15).
Its nuclear station construction program was halted for 20 months after the Fukushima Daiichi disaster in Japan in March 2011, but had gradually resumed by the second half of last year.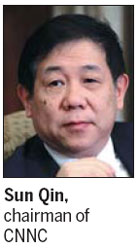 "I think during the 12th Five-Year Plan, China's nuclear station construction should be prudent. The pace should be five or six reactors a year," Sun said.
"Then, as its management and regulation mature, the pace could be accelerated during the 13th Five-Year Plan (2016-20)."
At the height of the previous boom, 11 reactors were built in China in 2011.
Sun said CNNC was open to the possibility of developing further nuclear stations in inland regions, as technically speaking, building stations in inland areas is no different to building them along the coast.
He added that nuclear construction will continue in traditional areas and one or two inland sites could be studied.
In a sign of the eagerness of inland provinces to develop nuclear stations, Hunan officials have made the construction of the Taohuajiang station their No 1 proposal during the ongoing annual session of the National People's Congress.
Feng said previous expansion of nuclear stations had been too bold, and that some of the potential sites were chosen without enough planning.
Feng added: "Nuclear power projects carry a very slim chance of an accident, but if they do happen, the consequences can be disastrous. So every project should be very carefully examined."
Sun also disclosed that China has been maintaining its pace of research into fourth-generation nuclear reactor technology.
The country has two experimental 4G nuclear reactor sites, both moving from the experimental phase to the model phase. The final stage in a development is the commercial phase.
"The international community has set a target that by 2030 to 2035, commercial 4G reactor technology should be available.
"We will be ready to reach the commercial phase by 2030, which is the same, or a little earlier than the international pace," Sun said.
zhengyangpeng@chinadaily.com.cn