Free trade tales of Shanghai & HK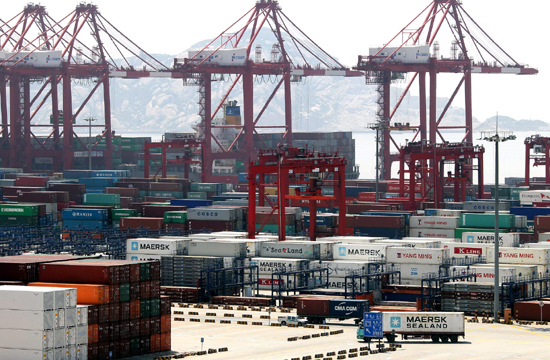 Yangshan Port in Shanghai. Some believe the city's ambitious plan to turn itself into a regional trade hub may threaten Hong Kong's status. [Photo/Xinhua] 
Shanghai's ambition to be a regional trade hub may threaten Hong Kong's status, report Yu Ran in Shanghai and Gao Changxin in Hong Kong
Shanghai's dream can sometimes be Hong Kong's nightmare.
When the city on the Huangpu River announced its ambition to expand its free-trade zone to strengthen its bid to be the region's leading trade hub, Hong Kong sounded a shrill warning of an enemy at the gates.
"In 2013 we will build a pilot case for the free-trade zone in accordance with State planning," Yang Xiong, Shanghai's acting mayor, stated in the government report delivered at the Shanghai People's Congress, or local legislature, on Jan 27.
The report also said 403 regional headquarters had been set up by foreign multinationals in Shanghai; trade in services comprised more than 30 percent of the national total; and newly signed overseas engineering contracts were valued at more than $10 billion for four consecutive years.
Christopher Cheung Wah-fung, Hong Kong legislator for the financial services sector, said: "Shanghai will be more of a threat to Hong Kong than the Qianhai development zone in Shenzhen, because Hong Kong businesses could take part in the latter - just across the border."
He added that Hong Kong's business sector must strengthen and improve itself to prepare for the opening up of Shanghai to international investors.
But to savvy observers, familiar with the oversized ego of Shanghai and the overblown paranoia of Hong Kong, the two cities are servicing different regions with vastly diverse needs and requirements.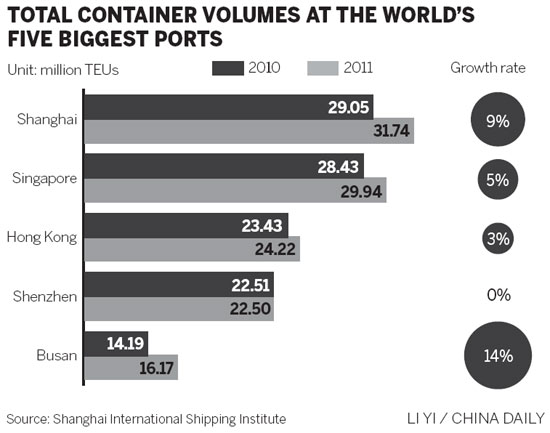 Whatever conflict they may face is more a matter of face than of the wallet. As a regional trade hub, Shanghai will be competing more directly with Pusan in South Korea and Kaohsiung in Taiwan than with Hong Kong.
Hong Kong's position as a regional shipping and aviation hub has strengthened in recent years despite growing competition from other port cities and the worldwide economic downturn, leading to a contraction in global trade.
Hong Kong Financial Secretary John Tsang Chun-wah, wrote in an article published at the end of January, "Though competition from neighboring regions is intense, Hong Kong's total throughput, if you ignore fluctuations caused by economic cycles, has grown steadily. Logistics accounts for one-fourth of Hong Kong's GDP, employing one-fourth of the labor force. We must encourage the industry to develop in a direction where there is high added-value."
The city's Marine Department said in January the port of Hong Kong handled container volume of 23.09 million TEUs in 2012, a year-on-year drop of 5.3 percent in annual throughput.
However, Hong Kong retained third place on the list of the world's leading container ports over neighboring Shenzhen by a narrow margin. Volumes at Shenzhen picked up by 1.6 percent to reach 22.94 million TEUs.
After 2009, when Hong Kong lost 14.1 percent of 3.4 million TEUs of throughput, the recent stagnation marks the second time since 2001 that Hong' Kong's port recorded negative growth.