Export woes need for change in trade structure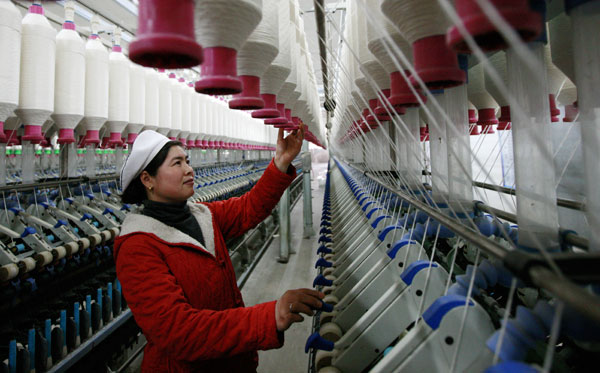 A textile mill, whose products are mainly for export, in Huaibei, Anhui province. Many of the country's provinces have set lower foreign trade targets for this year due to sluggish global demand and the unfavorable trade environment. [Photo/China Daily]
The recent lowering of foreign trade targets by provincial governments suggests more challenging prospects for China's foreign trade this year after lackluster growth in 2012, with experts calling for urgent steps to improve the nation's trade structure.
Guangdong province, which accounts for a quarter of China's foreign trade, has set a foreign trade growth target of 5 percent for 2013, despite the province's trade growing 7.7 percent year-on-year in 2012, surpassing its 7.5 percent target.
The eastern province of Jiangsu lowered its target to 5 percent this year from 8 percent in 2012 after its foreign trade rose 1.6 percent year-on-year.
"We must speed up the strategic transformation of foreign trade in 2013 ... and balance imports and exports while fostering new trade growth engines, as well as upgrading processing trade," said Guangdong Governor Zhu Xiaodan.
Fujian province has set a target of 5 percent for this year, while Shandong province expects its foreign trade to grow by 8 percent.
Zhejiang province is expected to set a lower target than last year's 10 percent.
Guangdong, Jiangsu, Fujian, Shandong and Zhejiang accounted for 58 percent of China's total foreign trade in 2012.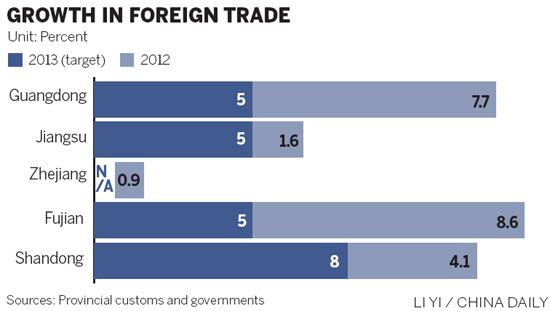 Commerce Ministry spokesman Shen Danyang said that trade prospects will remain challenging this year due to sluggish overseas demand and the unfavorable trade environment.
Wei Jianguo, vice-chairman and secretary-general of the China Center for International Economic Exchanges, added: "I am concerned that China's foreign trade outlook this year will be more challenging than in 2012."
China's foreign trade rose 6.2 percent year-on-year in 2012, missing its 10 percent target and contrasting sharply with the 22.5 percent surge in 2011.
Exports grew 7.9 percent year-on-year in 2012, the slowest pace in more than a decade except 2009, in the wake of the outbreak of the global financial crisis.
Speaking at a forum on Friday, Wei added that global economic prospects will remain uncertain over the next three to five years.
Economic growth in the United States, China's biggest export destination in 2012, may not bounce back as expected owing to the difficulties in repatriating manufacturing to boost its real economy.
Wei said many experts in the US claim that China stands to benefit more from the Doha Round of world trade talks, which explains the White House's general indifference toward these talks and its preference for regional trade agreements.
"We must also watch out for the European Union, a key player in China's exports. The EU's debt woes will last for a long time and the biggest concern now is its unemployment and looming fiscal trouble in Italy. Sluggish demand in the EU will further drive down turnover at the Canton Fair (China's largest biannual trade fair and a barometer of its exports) after a 9.3 percent drop at the autumn event," said Wei, a former vice-minister of commerce.
Yao Jingyuan, a researcher at the Counselors' Office of the State Council, blamed weak exports in 2012 for China's slow economic growth, which expanded 7.8 percent year-on-year, the slowest pace since 1999.
Yao added: "But China's high-tech exports retained quite high growth in 2012, suggesting that the current export growth model and structure are not sustainable.
"Amid rising costs at home and fierce competition from neighboring countries with lower costs, we are now at an urgent moment to transform exports and take the downward pressure in export growth as the motivation for restructuring."
Chen Zhihan, general manager of Fujian Jiamei Group, a leading maker of ceramic artware, said: "It's not very difficult for us to get orders this year, but it's hard to beat rising costs. The exchange rate fluctuation in 2012 eroded about 10 percent of our profit while our labor advantage has disappeared and raw materials are cheaper in some overseas markets."
Guo Ruolai, assistant to the general manager of Dahuachem International Economic & Trade Co Ltd, said that its focus this year is ensuring that customers in countries with debt woes are able to pay up.
Li Demin, general manager of Dongning Huaxin Group in Heilongjiang province, said: "We expect our trade value to rise to $250 million or $300 million this year from $200 million in 2012, mainly driven by our transformation from mechanical and electrical exports to Russia to agricultural investment, which in return boosts machine exports."
Wei Jianguo added: "Training of migrant workers, or semi-skilled workers, the main source of labor at Chinese exporters, must be enhanced for the country to retain its position as the world's factory and its leading exporter.
"In addition, more efforts should be given to trade in services in order to improve the trade growth model. About 3 trillion yuan ($481.9 billion) in service trade will be shifted to China from overseas markets in the next three to five years."
lijiabao@chinadaily.com.cn