Diners will receive rewards if they eat all their food in restaurants or take away their leftovers, as part of efforts to reduce food waste.
Minister of Commerce Chen Deming told a conference in Beijing on Monday that some restaurants have introduced such a policy, while others are handing out coupons or awarding membership points to diners who do not squander their food.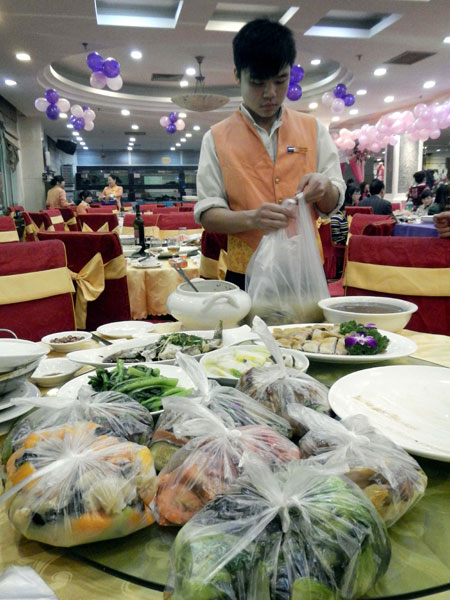 A staff member packs unfinished food after a wedding banquet at a restaurant in Nanning, the Guangxi Zhuang autonomous region, on Sunday. Liu Jun / Xinhua 
"All these methods have proved effective and can be promoted," Chen said.
The conference, staged by the ministry and the National Tourism Administration, focused on measures to eliminate food waste.
Chen said restaurants and catering services should come up with ideas to avoid wasting food, and restaurant associations can reward restaurants or individuals that contribute to reducing such waste.
He urged restaurants to put up banners carrying slogans to discourage wasting food, to provide smaller dishes and to remind customers to take their leftovers away.
He said the quantity or weight of materials in each dish should be printed on the menu, adding that a suitable number of people should be suggested for set meals.
The minister also urged restaurants and food companies to introduce innovative cooking methods for food that is frequently eaten, to make it more inviting than expensive dishes.
Related:
Beijing restaurants size down to save waste
Eateries think small to fight food waste
Scientist wants food waste criminalized