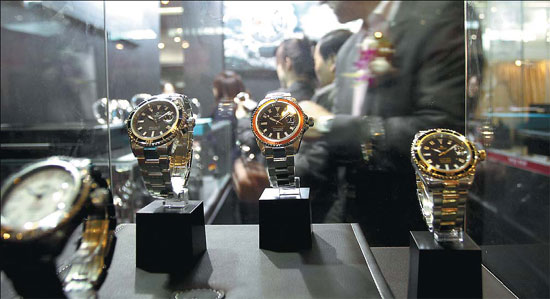 Swiss watches on display at an expo in Wuhan, Hubei province. Jacques de Watteville, Switzerland's ambassador to China, said good progress has been made in FTA talks, and the country could become the first in Europe to have a free trade agreement with China. [Photo/China Daily] 
Free trade talks with Switzerland and Iceland make good progress
Iceland and Switzerland are racing to become the first European countries to ink free trade agreements with China, in an effort to boost trade with the world's second-largest economy amid lingering global economic woes.
President of Iceland Olafur Ragnar Grimsson and President of the Swiss Confederation Ueli Maurer told China Daily that both countries have achieved "smooth and decisive progress" with China in the FTA talks, as the European Union has not put such negotiations on its agenda despite Beijing's proposal for a feasibility study.
Grimsson said China and Iceland are making efforts to finalize and sign the FTA within "one or two months" during Prime Minister Johanna Sigurdardottir's visit to Beijing in February or March, which he said is yet to be arranged.
"I hope we can finalize it then. It is high time to conclude it," Grimsson told China Daily at the World Economic Forum annual conference on Wednesday, adding that both sides kicked off talks in 2005 when he made a state visit to Beijing.
Grimsson said if the prime minister's visit can be arranged, it is very likely that Iceland will be the first European country to sign an FTA with China.
"I was told the negotiations are at the final stage now," Grimsson said.
An official from the Ministry of Commerce who is close to the matter said on Thursday that China and Iceland have reached consensus on the framework of the bilateral trade pact and a majority of related issues, which paves the way for conclusion of the China-Iceland FTA.
But, the two sides still differ on a few minor issues that are not related to the bilateral FTA itself, he said.
"It's possible that the two countries will sign the deal in a month or two, if the north European nation adopts a more sober attitude and doesn't make demanding requests," he said.
"The two-way FTA is good for Iceland," he added.
Chen Deming, minister of commerce, said during the annual commerce work conference held late last year in Beijing that China will try to wrap up FTA negotiations with a few nations as soon as possible, including Iceland, in 2013.
Compared to the talks with Iceland, China's talks with Switzerland, which started a year ago, are progressing faster.
"I hope that the negotiations can be concluded soon - and successfully. And this will give a new and added boost to the economic relationship which has already developed very well in the past," said Swiss President Ueli Maurer in a written reply to China Daily.
Jacques de Watteville, Switzerland's ambassador to China, further elaborated on the progress of the negotiations. "Overall, good progress has been achieved. If the agreement is concluded in the near future, it would be the first of its kind between China and a European nation."
Despite the fact that both European countries are eager to sign the FTA with China to further reinforce bilateral economic and trade relations after China's leadership transition in November, Brussels seems to have ignored Beijing's proposal to do a feasibility study to kick off FTA negotiations.
Instead, amid a double-dip recession, Brussels has increasingly resorted to trade protectionism to hamper China's exports.
"The current focus with our Chinese partners is to make progress toward an investment agreement and further market access," said John Clancy, the EU trade spokesman.
"Only with positive and concrete developments on an investment deal on both sides will we be in a position to examine broader trade ambitions, such as an FTA with China," Clancy said.
He cited EU Trade Commissioner Karel de Gucht as saying that such an investment deal is Brussels' first priority and both sides have to show progress in this field first.
Among other measures, Brussels has launched an anti-dumping investigation against China's solar panel exports, which has stirred mounting criticism.
Meanwhile, insiders said negotiators from Beijing and Bern have already finished the lion's share of the FTA draft with food and agriculture still being the thorny issues on which an agreement has not been reached. Switzerland is trying to protect the sector, as it is a net importer of agricultural products.
According to de Watteville the main objective of the agreement is to promote trade and investment between both countries by eliminating or reducing tariffs on most goods, removing non-tariff barriers, improving market access for goods and services, and by intensifying economic cooperation.
"If these objectives are met, this would create favorable conditions for companies from both sides and boost two-way trade and investment," he said, adding that China and Switzerland have highly complementary economies and would therefore greatly benefit from such an agreement.
Iceland's President Grimsson has also pinned high hopes on the conclusion of the FTA.
Under the new Chinese leadership, Grimsson said the agreement could further reinforce the constructive and active economic cooperation between China and Iceland.
Grimsson said Premier Wen Jiabao's visit to Iceland last year has consolidated the bilateral relationship and the two countries will further enhance cooperation on the environmental and clean-technology fields.
He also said the two countries will boost cooperation on ice-covered areas, especially in the Himalaya and Arctic regions.
"We share many mutual interests in these areas," said Grimsson.
Together with China's new leaders, Grimsson said he would continue to push forward the reinforcement of bilateral relations and also issues of global importance.
Contact the writers at fujing@chinadaily.com.cn and dingqingfen@chinadaily.com.cn