Dell Inc, the personal-computer maker that lost almost a third of its value last year, is in buyout talks with private-equity firms, two people with knowledge of the matter said. The company shares have surged as a result.
The company is discussing going private with at least two firms, said one of the people, who asked not to be identified because the talks are private. The discussions are preliminary and could fall apart because firms may not be able to line up the needed financing or resolve how to exit the investment in the future, the people said.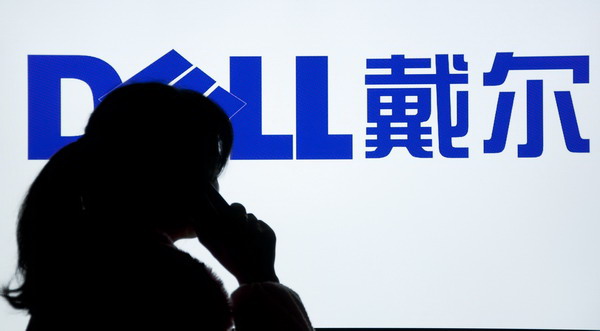 Dell Inc, the personal-computer maker that lost almost a third of its value last year, reported a 47 percent drop in net profit during the third quarter compared with the same period in the previous year.
Several large banks have been contacted about financing an offer, one of the people said. The computer maker had a market value of $18.9 billion as of Jan 11.
Taking the company private could help Dell, the third-largest PC maker, accelerate efforts to revive growth and cope with competition without quarter-by-quarter scrutiny from public shareholders.
Chief Executive Officer Michael Dell, 47, has been using acquisitions to sell more products to businesses as consumers shun PCs in favor of tablets and smartphones, including devices that run Apple Inc and Google Inc software.
"The stock has not done much, and he's under pressure to boost numbers," said Abhey Lamba, an analyst at Mizuho Securities USA Inc. "He wants to de-emphasize about two-thirds of his business, and that's a hard strategy to push because it would mean overall revenue will shrink."
Stock, bonds
Dell shares jumped 13 percent after the news and closed at $12.29 in New York on Jan 14. Dell's bonds fell to the lowest level in 19 months, while the cost of protecting the company's debt from losses, as reflected in five-year credit-default swaps, surged. David Frink, a spokesman for Round Rock, Texas-based Dell, declined to comment.
Michael Dell founded the company in 1984 in his University of Texas dorm room with $1,000 when he was 19. He catapulted it to the top of the industry by cobbling together PCs from off-the-shelf parts and delivering them directly to consumers at a lower cost than rivals, including International Business Machines Corp. Dell lost the top spot to Hewlett-Packard Co in 2006 and more recently has struggled to contend with new competitors, including Apple, in the consumer market.
The chief executive officer owns 15.7 percent of the company, making it easier for firms to put together equity financing for the deal, one of the people said.
Michael Dell has a net worth of $13.7 billion and ranks 65 on the Bloomberg Billionaire Index. MSD Capital LP, his investment-management firm, oversees about $9 billion, according to Bloomberg estimates. Dell could use part of that wealth to help finance the transaction.
Low valuation
The company's enterprise value of $19.1 billion is 4.4 times earnings before interest, taxes, depreciation and amortization for the last 12 months, according to data compiled by Bloomberg. That's a lower valuation than every computer- hardware maker larger than $1 billion, except Hewlett-Packard Co, which has a multiple of 3.5, the data show.
Based on Dell's market value as of Jan 11, a deal could be at least the largest buyout of a technology company since 2007, when KKR & Co bought First Data Corp for more than $25 billion, according to data compiled by Bloomberg. It could also be the largest acquisition in the computer industry since Hewlett-Packard bought Compaq Computer Corp. for about $19 billion in 2002, the data show.
News of the buyout talks sent ripples across the technology industry, fueling gains in the shares of Hewlett-Packard, Lexmark International Inc. and Western Digital Corp.
Large leveraged buyouts have been scarce since the financial crisis. Other technology companies, including disk- drive maker Seagate Technology Plc, have attempted to go private and had the talks fall through over valuations or difficulty in financing deals.
Goldman Sachs Group Inc upgraded the stock to 'buy' in December, saying that Dell's net cash balance presents an opportunity for a leveraged buyout.
While demand for PCs has declined, Dell's net cash balance of $5.15 billion provides "some downside buffer as it produces opportunity for an LBO or levered recap under the right conditions," Bill Shope, an analyst at Goldman Sachs, wrote in the report. "Dell has become an attractive deep value play and we would be buyers of the stock."
Michael Dell, who retook the CEO position in 2007, said in 2010 he had considered taking the company private.