BEIJING - China's industrial production growth slowed in 2012 from a year earlier to 10 percent year-on-year, the National Bureau of Statistics announced Friday.
The figure represents a 3.9 percentage points decline from the growth rate of 2011, said the NBS chief Ma Jiantang at a press conference in Beijing.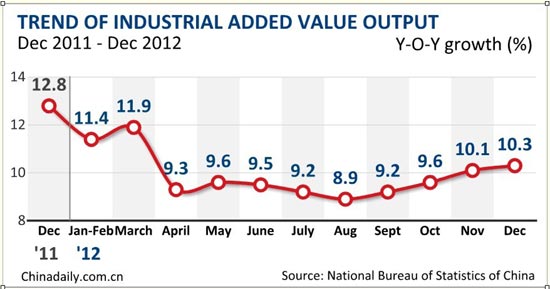 In December last year, the value-added industrial output increased 10.3 percent from a year earlier, marking the rise for a fourth consecutive month after the figure hit a year low of 8.9 percent in August
China's economic growth quickened to 7.9 percent in the fourth quarter on government pro-growth measures, bringing the full-year figure to 7.8 percent, according to the latest data released by the NBS.
In the third quarter of 2012, China's economic growth slowed to 7.4 percent, the weakest reading since the second quarter of 2009, dragged down by domestic woes and global economic downturn.
Value-added industrial output measures the final output value of industrial production, or the value of gross industrial output minus intermediate input, such as raw materials and labor costs.
For heavy industries, value-added industrial output jumped 10.6 percent year-on-year, while light industries climbed 9.6 percent from the a year earlier.
By regions, industrial output expanded 12.3 percent in China's western area, followed by 11.0 percent and 9.4 percent in central and eastern parts of the country, respectively.
China's industrial profits grew 3.0 percent year-on-year to 4.66 trillion yuan in the first 11 months of 2012, data showed.
Special Coverage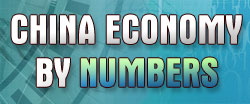 Related Readings
China's industrial value-added output up 10%
China's industrial profits continue to pick up
China's industrial production 'will grow'
China's industrial profit growth quickens in Oct