Metro suspends future funding of electronics unit, directs focus on wholesale arm
Media Markt China, the electronic products chain owned by Germany's Media-Saturn Holdings and Foxconn Technology Group, may have to close unless a buyer is found for the money-losing business, according to retail experts.
Media-Saturn's parent company, Metro Group, said on Wednesday it was withdrawing any further financing for a planned expansion of the business, which has opened seven Media Markt stores in Shanghai, according to a statement.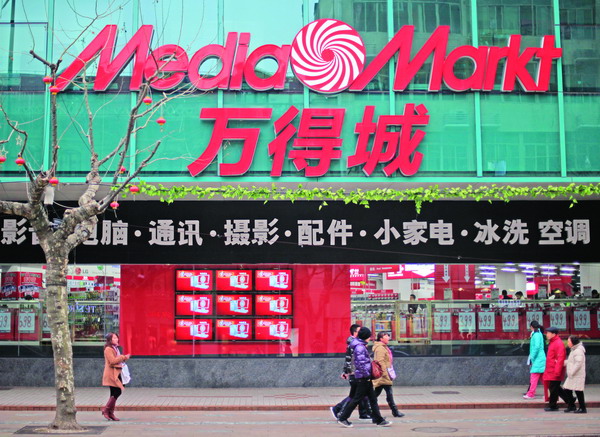 A Media Markt store in Shanghai. The electronics retailer is jointly owned by the Germany-based Media-Saturn Holdings, a subsidiary of Metro Group, and Hong Kong-listed Foxconn Technology Group. [Photo / China Daily]
"On expiration of the two-year test phase, Metro Group has decided to discontinue strategic considerations of a further expansion of its subsidiary in China.
"With its partner Foxconn Technology Group, with whom it jointly operates Media Markt China, Metro will now agree on further procedures to be adopted," it said.
Olaf Koch, chairman of the management board of Metro Group, said the decision had been made based on lessons learned from a two-year test phase that expired at the end of December.
"After carefully analyzing all alternatives, we have decided not to continue our business activities," Koch added.
"In order to keep Metro on target, it is essential for us to concentrate on those business units and markets where we can clearly sharpen our profile and build up a strong market position.
"We will further intensify our successful commitment to Metro Cash & Carry in China. The country is key and a promising market with good future prospects for our wholesale business."
Media Markt has opened seven stores in China since 2010. The first opened in Shanghai in Nov 2010, and the company was expected to open more than 100 stores across China by 2015.
But analysts said there had been much lower-than-expected earnings from the seven stores.
Media Markt offers online shopping services
Media Markt plans larger network
Media Markt to add more outlets in China
Media Markt to expand across China by 2015
Read more in