BEIJING - More overseas investors were allowed to enter China's stock markets last year amid the country's efforts to open up its financial sector, latest data has showed.
China granted qualified foreign institutional investors (QFIIs) licenses to 72 new foreign investors in 2012, a record since the start of the scheme in 2002, according to figures released Tuesday by the China Securities Regulatory Commission.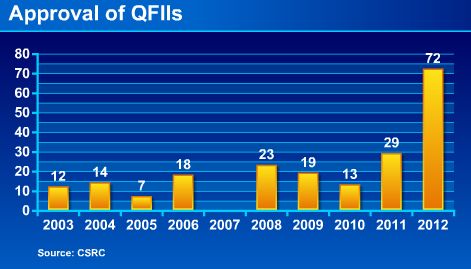 The number was up from 29 in 2011, 13 in 2010 and 19 in 2009.
Foreign institutions are allowed to buy Chinese shares mainly through two programs -- QFII and RMB QFII, as foreign individuals are barred.
China could increase 10-fold the quota for foreign investors putting money into its stock markets, as the two programs together account for "just 1.5 or 1.6 percent" of its A-share market, CSRC Chairman Guo Shuqing Monday told an economic forum in Hong Kong.
The country has been taking steps to attract more long-term overseas funds. In April, the CSRC raised the investment ceiling for QFIIs to $80 billion from $30 billion.
In July, it eased restrictions on foreign investors by allowing qualified institutional investors to hold up to 30 percent of shares in any domestically listed company, up from 20 percent.
Total QFII quotas reached $37.44 billion between 2002 and 2012, according to the data.
Related Readings
QFIIs may get crack at index futures market

Regulators to raise QFII limit

More investors approved as QFIIs

China to further expand QFII quota

China pledges to expand QFII, RQFII programs